January 13, 2015
'Aprendiendo del Arte-Learning from Art' offered Feb. 17-18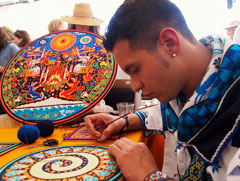 The K-State family is invited to participate in "Aprendiendo del Arte-Learning from Art," which will be Feb. 17-18. Cilau Valadez, a Huichol yarn painter, and Agustin Cruz Prudencio, a Oaxacan wood carver and painter, both from Mexico, will be speaking and leading art workshops. Also joining the event is Nancy Walkup, SchoolArts Magazine editor and a director for the National Art Education Association.
Art making workshops will be at 1:30-3:30 p.m. and 3:30-5:30 p.m. Feb. 17 in 118 Bluemont Hall.
On Feb. 18 guests will speak at the following times and locations:
11 a.m. to noon in 21 Bluemont Hall.
3-4 p.m. in the UMB Theatre in the Beach Museum.
5-6 p.m. in the UMB Theatre in the Beach Museum.
Two receptions open to the public will be offered Feb. 18:
4-5 p.m. in the Beach Museum.
6-7:30 p.m. in the Strecker Nelson Gallery, 406 Poyntz Ave., Manhattan.
The focus of the event is learning from art. Through art making and art education, whole brain learning occurs including tactile, visual and cognitive. The event also will be focusing on the importance of internationalization and globalization in our American classrooms and in all teaching and all learning.
Agustin and Cilau will share their own stories and how art making has influenced their lives. Walkup will be sharing the role art education has in the school environment and also how Eliott Eisner's theory of art education relates to globally inspired learning.
Join us at any and all events. Email Trina Harlow, College of Education art education instructor, at tharlow@k-state.edu if you would like to attend. Only 50 participants per workshop.
Let's give a warm Kansas and K-State welcome to our guests.