January 12, 2015
Monday Marketing Minute: Band goes viral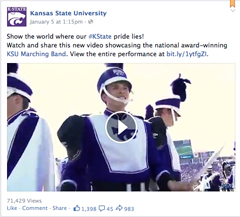 One of the most enduring — and endearing — K-State traditions is the phenomenal Pride of Wildcat Land marching band. Recently named one of the top marching bands in the nation, the band has reached new heights under the inspirational leadership of Frank Tracz.
Just how popular is the band? The drum line in recent years has developed a special routine, which this year debuted at the Texas football game. A "making of" video of this performance was posted on the K-State Facebook page on Jan. 5. Within 24 hours, the video topped 50,000 views and reached more than 150,000 Facebook users. The numbers kept climbing and comments, likes and shares hit 5,000 within two days. To paraphrase K-State's Ron Wilson "now that's viral."
In addition, a Facebook post on Dec. 19 announcing the band's national award has reached more than 420,000 Facebook users with a total of 14,400 comments, likes and shares and 45,000 clicks.
This demonstrates the expansive power of a brand, and the pride associated with our student traditions. Watch and share this new video showcasing the award-winning KSU Marching Band at bit.ly/1ytfgZI. It will make you even prouder to be a Wildcat.