July 5, 2011
Pink rodeo to benefit K-State's Johnson Center for Basic Cancer Research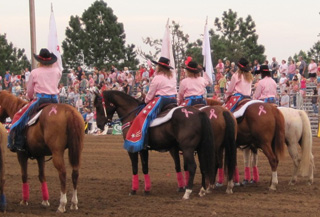 The Kaw Valley Rodeo Association is looking for cowboys and cowgirls who are tough enough to wear pink.
The association will host its fifth annual Tough Enough to Wear Pink night at the rodeo Friday, July 22, to raise awareness of breast and other cancers and to raise funds for Kansas State University's Johnson Center for Basic Cancer Research.
The Kaw Valley Rodeo is in conjunction with the Riley County Fair. The rodeo will start at 8 p.m. July 21-23 at Wells Arena in Manhattan's CiCo Park.
"We want all rodeo fans to pack the arena with pink that Friday night," said Dr. Gene Klingler, rodeo association member and pink rodeo committee chair.
A large pink balloon launch will honor cancer survivors during the grand entry. Audience members and rodeo participants alike are encouraged to wear pink. Pink T-shirts, bandanas and more will be sold at the rodeo, with all proceeds going to the cancer research center.
"The pink rodeo is a touching and exciting event. We thank the rodeo association and sponsors, as well as everyone who helps fill the arena with pink and otherwise supports cancer research at K-State," said Rob Denell, director of the center and a university distinguished professor of biology.
Several events are scheduled to support the Tough Enough to Wear Pink campaign. A spaghetti buffet will be offered by Gilio's former owner chef Drew Zink and Cox Bros. at 4:30 to 7 p.m. Sunday, July 10, at the First Presbyterian Church Family Center, 801 Leavenworth St. A steak fry and live auction will be at 6 p.m. Sunday, July 17, at R.C. McGraw's, 2317 Tuttle Creek Blvd., where a custom pink belt buckle will be up for bids. Reservations are needed for both events and can be made by calling the center at 785-532-6705.
The cancer research center's mission is to further the understanding of cancers by funding basic cancer research and by supporting higher education, training and public outreach. All of its programs are supported by private donations. More information about the center is here.