November 22, 2011
Alumna leaves estate to K-State
Submitted by Communications and Marketing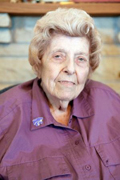 Lolafaye Coyne considered herself to be a nontraditional student when she came to K-State to pursue her doctorate in statistics in her early 40s — after all, it was the late 1960s. These days, it might not be so uncommon to see students that age on a college campus sporting a backpack and a Blackberry rather than a blazer and a briefcase.
But it was the kindness of the faculty and students at K-State that made her feel at home and appreciative of the welcoming atmosphere of Manhattan, Kan. She graduated with her doctorate in 1972 and went on to a higher-level job and a career working in research and statistics for the Menninger Clinic. Today, Coyne lives in Topeka, Kan., and although she's far removed from her days as a student, she recalls them fondly, so much so that she's gifting the bulk of her estate to the university.
Many of Coyne's prized possessions — among them books, art and musical instruments — will have a home on campus at the K-State Libraries, department of music and the Beach Museum. And through a deferred gift, she'll establish a scholarship for graduate students in statistics as well as support the College of Veterinary Medicine.
Recently Coyne shared reflections on her experience as a student, the impact the university has had on her life and why she cares about so many programs at K-State.
---
What was it like to be a graduate student at K-State?
I wasn't originally enrolled at K-State, actually. At the school where I started my doctoral program, my professor didn't think it was appropriate for someone my age to be in class — the professor thought a person should continue graduate education right after undergraduate.
So I came to K-State, and the faculty made it clear they were delighted to have me in the program. The students didn't act like I was any different. We had coffee together in the K-State Student Union every morning. They accepted me and were very wonderful. I learned a lot in my classes, which prepared me for a more responsible job right after I finished. I owe it to K-State.
Can you tell us about your interests on campus?
I wanted to support the department of statistics because of the great experience I had as a student. And I thought the Beach Museum would be a perfect fit for my art collection. A representative from the library determined that I've got somewhere between 1,600 and 1,800 books, all of which are going to K-State.
I played clarinet in the Topeka Symphony for 55 years, 1945-2000, and I thought the department of music would have use for all of my instruments, music and other equipment. In 2009, the department invited me to attend a concert where students played my instruments and they honored me from the podium. It was one of the best nights of my life.
When I was a student at K-State, one of my dogs became ill. The veterinarian I took her to said he couldn't help. I then took her to the veterinary school on campus; they operated on her and saved her life. Years later, a young surgeon in the college saved another dog of mine. They weren't able to save the last dog I took to them, but they handled it all so wonderfully. The staff sent me a sympathy card and a lovely framing of her paw print.
Do you have any additional reflections on the experience?
Every person I've worked with — from the foundation and from campus — has been so nice and appreciative, and they made things very easy for me. I'm very grateful to K-State — it made a difference in my life. Working and simultaneously being in a doctoral program is a lot of work, but at K-State, it was also a lot of fun. Everything about my experience with K-State has been absolutely delightful.