September 9, 2014
Empathy Week is Sept. 9-11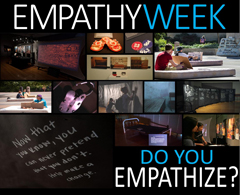 Join us for Empathy Week, Sept. 9-11, in the KS Ballroom and Bosco Plaza, as we explore the issue of child trafficking at home and abroad; experience the stories of survivors through film, photography and artifacts; and engage in the solutions by attending the Empathy Exhibit and Experience or taking part in the Mattress Vigil.
The Empathy Exhibit will tell stories of actual child trafficking victims and survivors through film, photography and artifacts. The exhibit will be from 10 a.m. to 5 p.m. Sept. 9-11 in the Union KS Ballrooms. You can go through individually from 10 a.m. to 2 p.m., join a guided tour from 2 p.m. to 5 p.m., or schedule a private tour.
Do you have a few minutes spare time and a few extra bucks? If so, join us during the Mattress Vigil as fellow advocates inspire the campus and join others by taking a personal stand against this crime by silently sitting on mattresses, which represent the location where many children are first exploited. This serves as a silent protest and a fundraiser. The Mattress Vigil will be on Bosco Plaza, north of the K-State Student Union, from 11 a.m. to 2 p.m. Sept. 9-10.
Groups can have a mattress on either Tuesday or Wednesday or on both days and are asked to have a goal fundraising amount of at least $200, though don't worry if you don't reach your goal. Participants can choose to sit on the mattress for 5-15 minutes and are asked to donate $5-$10 at that time, all of which will go toward iEmpathize's efforts in the fight against child sexual exploitation. Participants are also encouraged to contact their friends to participate as well. To sign your group up on the website or by email ksufreedomalliance@gmail.com.
The Empathy Experience is an immersive night and a celebratory event featuring inspirational short films and idea exchanges. Help us celebrate what we were able to raise to help survivors and join the empathetic movement combating injustice in the world. Join us at 7 p.m. Wednesday Sept. 10 in the Union's Ballroom.