August 26, 2014
Call for Makers: UFM organizing mini Maker Faire in Aggieville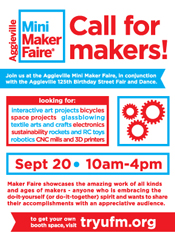 UFM Community Learning Center is working with the Aggieville Business Association to organize a mini Maker Faire from 10 a.m. to 4 p.m. Saturday, Sept. 20, as part of Aggieville's 125th Birthday Street Fair and Dance.
This is a great opportunity for K-State departments and student groups to showcase their projects and innovative research activities. Get your space and download the application.
A Maker Faire is an event to celebrate arts, crafts, engineering, science projects, and the do-it-yourself mindset, or sort of a county fair meets science fair. Maker Faire's flagship events in San Mateo, California, and New York draw more than 1,000 makers and more than 100,000 attendees. In addition to these and numerous other larger-scale featured Maker Faires, more than 120 community-driven, independently organized mini Maker Faires are now being produced around the world — including in Aggieville.
This is not a traditional craft fair. The focus is on skills, learning and sharing knowledge and creativity with others. Our vision is to have a wide range of creative individuals and groups display, demonstrate and share their projects and skills with community members of all ages. You may demonstrate a skill, discuss your craft, allow participation and/or provide make-it, take-it opportunities to attendees. Items may be sold at the event; however, there is a booth rental charge if you wish to sell your wares.
Limited booth space is available along Moro Street between Manhattan Avenue and 12th Street. Volunteers will be available at 8 a.m. to assist with set-up and at 4 p.m. for teardown. You will supply your own display setup and supplies; you may bring a canopy, but no stake anchoring is allowed. Limited tables and electricity will be available.
Come share your creative passion with others in the community, and join in a really fun day that Manhattan won't soon forget. Complete and return the application as soon as possible — space is limited. Download the application here.
For questions and to return your completed forms, contact Linda Teener, linda@tryufm.org, or Kayla Savage, kayla@tryufm.org, at UFM Community Learning Center, 1221 Thurston. Call us at 785-539-8763. Hope to see you on Sept. 20.