July 22, 2014
Teachers learn about integrated watershed management, public health and food safety and security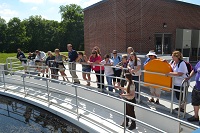 Kansas high school teachers went back to school at K-State Olathe this summer to gain a deeper understanding of water issues and growing career fields available to their students in integrated watershed management, public health and food safety and security. Because water is a finite asset, it has been identified as one of the most critical resources for the future.
Seventeen Kansas teachers rode in river boats and braved pouring rain while learning firsthand about the effectiveness of natural stormwater infrastructure solutions and the presence of zoonotic pathogens — naturally transmitted between animals and humans, such as E. coli, Leptospira and Giardia — in surface water. They were participants in the cross-disciplinary summer teacher in-service, Urban Water: The Confluence of Human, Animal and Environmental Health, staged by K-State Olathe, One Health Kansas and the Urban Water Institute, June 9-12.
The workshop presented teachers with lessons and experiences demonstrating the role of water in global food production and the impact of human activity on future water quality and access. The lab experiences showed how important the future of water quality is to determining whether we will have enough of the resource. The teachers visited green infrastructure pilot sites in Kansas City, Missouri, and innovative wastewater treatment and recovery facilities in Kansas and Missouri. Along the way they collected lessons and demonstrations to be carried back to the classroom.
"The K-State Olathe summer teacher workshop is an innovative model linking multiple disciplines," said Mike Strohschein, director of K-12 science education partnerships at K-State Olathe.
"The workshop brings together subject matter experts from the university, government and industry to present cutting-edge research and hands-on labs that teachers can take back to the classroom to help prepare students for future careers," he said.
Each participant received a resource kit to replicate several of the labs presented at the workshop.
Upon successful completion of all required program requirements, participants were eligible for one graduate credit from K-State.
This was the fourth year of the collaboration between K-State Olathe and One Health Kansas. The Urban Water Institute was a new partner in presenting the graduate-level workshop this summer.