July 10, 2014
Higgs to serve on expert advisory panel for Singapore government
Submitted by Communications and Marketing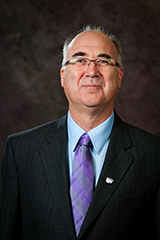 A Kansas State University researcher is helping Singapore's government in a campaign to prevent the spread of the dengue virus, a leading cause of illness and death in the tropics and subtropics.
Stephen Higgs, an infectious disease expert and university distinguished professor who serves as director of the Biosecurity Research Institute, associate vice president for research and the Virginia and Perry Peine biosecurity chair at K-State, is a member of the Dengue Expert Advisory Panel appointed by Singapore's National Environment Agency for its "Do the Mozzie Wipeout" Campaign 2014.
The campaign is aimed at dengue prevention efforts. According to the Centers of Disease Control, as many as 400 million people are infected yearly with the dengue virus, which is caused by any one of four related viruses transmitted by mosquitoes.
Higgs is among the world's leading researchers of mosquito-virus-vertebrate interactions and is an expert in vector biology, arthropod-borne infectious diseases, immune modulation and vaccine evaluation. He is the editor-in-chief of the international journal Vector-Borne and Zoonotic Diseases, and an editorial board member of Biosecurity and Bioterrorism: Biodefense Strategy, Practice and Science.
He joins a prestigious advisory panel of international dengue experts, including researchers from the United Kingdom, Singapore, Australia and the United States.
Read more about his appointment.