July 2, 2014
Ballard receives Rising Star Award from the Kansas City chapter of Meeting Planners International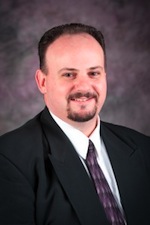 Tony Ballard, program coordinator for Kansas State University conference services, received the Rising Star Award from Kansas City chapter of Meeting Planners International, or MPI.
This award recognizes a chapter member of less than three years who has contributed extraordinarily to the organization with his or her dedication, vision, enthusiasm, willingness to participate, volunteer efforts and commitment. Ballard works in conference services, part of Kansas State University Global Campus and teaches an event planning course on campus. In addition to the award, Ballard was elected vice president of education for the organization.
"Meeting Professionals International is the largest global organization for meeting professionals of all types," Ballard said. "As a member of the organization, I have access to some of the premier industry talent in all aspects of meeting planning. Organizations such as MPI help organizations like ours stay ahead of the rapid changes taking place in the meetings and events industry."
Skilled meeting professionals like Ballard help organizations use their time and financial resources efficiently and aid in accomplishing the objectives of their event in the most effective way.
"At the university level, a meeting professional allows each college to focus their personnel resources on the education of our students while the meeting professional focuses on the logistical aspects of producing a great event," he said.
Ballard accepted the award at the annual meeting and award ceremony June 19 at the Terrace on Grand in Downtown Kansas City.
"It was great to be a part of the 2014 award ceremony," Ballard said. "I am honored to even have been nominated for the award and am equally honored to have received it. It was a great evening for myself, for K-State conference services and Kansas State University as a whole."