June 19, 2014
From A.D. John Currie: Budget updates, track and field, football ticket sales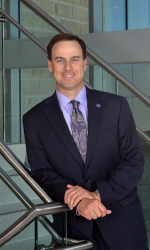 Greetings K-State Nation!
I write to you from Dodge City as I get ready to enjoy breakfast at the Winter Livestock Commission Cafe with a loyal group of K-Staters. Assistant A.D. Lon Floyd and I spent Tuesday visiting K-Staters in Scott City and Garden City before I capped off the evening by hopping over to Hutchinson for an awesome Catbacker event. Wednesday, Lon and I will head up to Great Bend for lunch and then down to the Wichita Catbacker dinner. The crowds on this year's tour have been incredible, and it is great to feel the excitement K-State fans have for the upcoming year.
In keeping with our goal of providing the best fan experience in the Big 12, we are thrilled to announce that Bramlage Coliseum will be dramatically enhanced as a new high-definition Panasonic center-hung video board, six additional LED displays and state-of-the-art innovative lighting and sound systems will be installed this fall in time for the 2014-15 season!
Our staff has done a great job of working with Wrightson, Johnson, Haddon and Williams, Inc. (WJHW), one of the top acoustical consulting and electronic systems design firms in the country, to manage the project, which will begin later this summer and be completed in October.
When you walk into Bramlage next season you will immediately notice the brand new Panasonic HD center-hung videoboard, which will have a display nearly three times larger than the existing video board in Bramlage.
Additional atmosphere video enhancements will come from new LED displays installed above sections 12-15 on the north end and section 24 to section 1 on the south end. These displays will provide additional opportunities for crowd engagement, out of town scores and sponsor integration.
We are equally excited to be installing a brand new best-of-class modern audio sound system, including nearly 100 total loudspeakers, which will utilize the latest amplifier and digital signal processing technology with more than 200,000 watts of amplification. The increased speaker locations will provide for better sound distribution and audio clarity and quality throughout the arena. Finally, a new LED lighting system will offer more versatile and higher quality of output in the arena and allow for special effects during introductions, halftime and miscellaneous recognitions while also reducing our electricity usage and cost in the arena.
The improvements, which will cost approximately $2.4 million, represent the most significant capital investment to the interior of the arena since the addition of loge boxes in 2007. The new videoboards and sound system replace existing ones last renovated in 2000-01. Thanks to our 10,000-plus members of the Ahearn Fund, this project will be paid for by general athletic department gifts and operating revenue without the aid of tax, tuition or general university dollars!
Bramlage already offers one of the best home court advantages in college basketball and these improvements, coupled with the 2012 completion of the $18 million Basketball Training Facility, gives K-State about as good of an overall basketball set-up as you'll find around the country.
Be sure and check out k-statesports.com for our full release, which will include renderings of the new boards.
Budget update
With the fiscal year fast coming to a close on June 30, I am pleased to report that K-State Athletics will have a balanced budget and achieve a surplus for the fifth straight year! I appreciate our coaches and staff for continuing to make budget-conscious decisions each and every day as well as all of Wildcat Nation for filling our stadiums all year long and participating in the Ahearn Fund. Did you know that this year K-State ticket holders paid $1.56 million in state of Kansas sales tax vs. $1.35 million last year? This is another way we provide value to the university, community and state, in comparison to some of our competing peer schools who are sales tax exempt. We have gained a lot of momentum over the past five years but have no plans to slow down. With potential landscape changes around college athletics on the horizon and our vision of continuing to build a model intercollegiate athletics program, we will have to pay even closer attention to our surroundings and every decision that we make must be in the best interest of K-State and our student-athletes. Stay tuned in the coming weeks for a more in-depth look at our finances including the unveiling of our 2014-15 operating budget.
Top 20 NCAA Track and Field Finishes Cap 2013-14 Season
Congratulations to Coach Rovelto and our track and field team for a terrific performance at last week's NCAA Track and Field Championships in Eugene, Oregon. For the first time since 2011, both finished in the Top 20, as the men placed 19th and the women 20th. In terms of individual performances, the Wildcats picked up 10 All-America honors out of the 13 entries including second place finishes for Alyx Treasure in the high jump and Devin Field in the triple jump. As we now look ahead to 2014-15, here is a brief breakdown of some of the highlights from this past season both on the playing field and in the classroom:
• Defeated Michigan in the 2013 Buffalo Wild Wings Bowl.
• Extended NFL Draft streak to a Big 12-best 21 straight years.
• 13 consecutive sellouts at Bill Snyder Family Stadium.
• Fifth straight NCAA Men's Basketball Tournament Appearance.
• Big 12 Rowing Championship Runner-Up.
• Nine Big 12 Track and Field Champions.
• Petra Niedermayerova qualified for fourth-straight NCAA Tennis Championships and was named First Team Academic All-American.
• Set baseball season attendance record at Tointon Family Stadium.
• Opened the new West Stadium Center, Intercollegiate Rowing Center and Mike Goss Tennis Stadium, completing $125 million in new facilities in 30 months.
• 101 Academic All-Big 12 selections.
• Big 12-leading APR scores in five sports (FB, M/W Golf, M/W CC).
KSA Staff Honored at National Conventions
This year's annual NACDA convention in Orlando had a purple hue to it as several of our staffs brought home numerous national honors from their respective organizations. As we had announced earlier this year, Senior Associate A.D. for Development Chad Weiberg was named the NAADD Fundraiser of the Year and was honored with the award at the annual Director's Cup Luncheon. Our Fan Experience and Sales department, led by Associate A.D. Scott Garrett and Senior Director Joni Smoller, was named the NACMA Marketing Team of the Year following a tremendous year of attendance superlatives and fan experience initiatives. Our athletics communications office brought home six national publication accolades, including two national runner-up honors, and our K-StateHD.TV staff won seven total awards following our third straight year of being the most-watched institutional branded television network on the CBS platform. I continue to be proud of our entire staff for their hard work and commitment to our goals as a department, and it is evident by these awards that their peers feel the same way.
Ticket sales brisk as season football sellout nears
Tuesday night in Hutchinson I recollected that my first trip there was on June 9, 2009, which happened to be my second official night on the job as athletic director. If I remember correctly, as of that night we had sold about 25,000 tickets for that year's season opener vs UMass, Coach Snyder's first game out of retirement. Fast forward five years and it is incredible to think that thanks to a record number of season football ticket sales and a steady flow of single-game purchases over the last week, we are closing in on a full sellout for THE ENTIRE 2014 SEASON, which will run our consecutive streak of filling Bill Snyder Family Stadium to 20 straight games! With the September 18 game against Auburn already sold out and the remaining singles and restricted view seats for both the SFA and UTEP games now all sold, only scattered singles remain for the Texas Tech, Texas and Oklahoma State games while fewer than 200 tickets are left for the home finale against KU. A limited number of standing-room-only tickets on the Northeast hill can now be purchased by phone, online and in-person for all games except Auburn and Texas Tech (Fort Riley Day). A maximum of eight tickets per game, per account, are allowed. Visiting teams will have opportunities to return unused tickets up to a month prior to their visit. Stay tuned to www.kstatesports.com for information regarding returned ticket availability. All returned tickets will be sold at the full public rate and season ticket wait list accounts will have first opportunity to purchase. Fans can now join the 2015 waiting list online or by contacting the ticket office at 1-800-221-CATS or visit www.k-statesports.com/tickets. Thanks for helping fill Bill Snyder Family Stadium!
That's it for today. Thank you again for your support of K-State Athletics and our student-athletes as we put the finishing touches on another terrific year.
Go Cats!
John Currie