June 20, 2014
Shoemaker to head horticulture, forestry and recreation resources department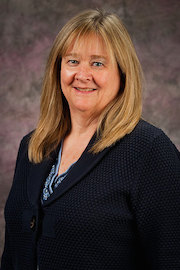 The College of Agriculture has announced Candice Shoemaker as the new head of the horticulture, forestry and recreation resources department. She will begin her appointment Sept. 1.
"Dr. Shoemaker brings a wealth of ideas, energy and experience to the position," said John Floros, dean of the College of Agriculture. "The administrative team and I are happy that Dr. Shoemaker accepted our offer, and we welcome her into our college's leadership team. I am looking forward to working with her as she settles into her new role and as she provides visionary leadership for our horticulture, forestry and recreation resources department."
Shoemaker said she's honored to be selected to lead one of the best horticulture, forestry and recreation resources departments in the country.
"I look forward to working with the department's excellent faculty and staff as we build on our strengths, embrace opportunities and continue to deliver programs of excellence that enhance K-State's reputation nationally and internationally," she said.
Shoemaker joined K-State as a faculty member in 2001. She grew up on a dairy farm and peach orchard near Grand Rapids, Michigan. After graduating from Michigan State University with a bachelor's degree in floriculture in 1978, she worked in production greenhouse businesses in Washington and Michigan for the next three years. She then obtained a master's degree in horticultural therapy from Kansas State University in 1982 and a doctorate in environmental floriculture from Michigan State University in 1990.
Shoemaker completed a postdoctoral research fellowship at Virginia Tech, taught ornamental horticulture and served as faculty coordinator and program director at Berry College in Rome, Georgia, and was the first director of the School of the Chicago Botanic Garden.
A current professor of horticulture and human health at K-State with teaching and research responsibilities, Shoemaker also helped create and currently directs two graduate degree programs, one in horticultural therapy, which consists of campus-based master's and doctorate programs and an online graduate certificate program, and the master's program in urban food systems — a novel specialization program developed in response to the increase in urban farms and interest in local foods.
Numerous teaching awards and honors provide evidence of Shoemaker's dedication to the classroom and working with students. She was awarded the K-State Office of Assessment Award in 2014, U.S. Department of Agriculture's National Institute of Food and Agriculture Excellence in College and University Teaching in the Food and Agricultural Sciences Award in 2012, and University Professional and Continuing Education Association Innovative Program Award for the horticulture therapy graduate certificate program in 2011, just to name a few.
Shoemaker's research program investigates the physical and psychological health benefits of gardening, with focus on children and older adults. This research allows work with students and colleagues from a wide range of disciplines, including kinesiology and human nutrition. She has successfully obtained more than $1.5 million to-date in grant funding to support her research programs.
As a leader in research and education related to human issues in horticulture and horticultural therapy, Shoemaker has been invited to speak around the world, including recent speaking engagements in Taiwan, England and Korea. She serves as the executive chair of the People-Plant Council, an association that promotes communication and research about people-plant interactions. In this role, she works with people worldwide in planning the biennial International People-Plant Symposium and facilitating the publication of the symposium proceedings.
Shoemaker is also involved in the International Society of Horticulture Science, American Association of Botanical Gardens and Arboreta, American Community Gardening Association, American Society of Horticulture Science, National Association of Colleges and Teachers of Agriculture, and the American Horticultural Therapy Association, where she served on the board of directors. She is currently on the editorial board of the Journal of Therapeutic Horticulture and chairs the Charles A. Lewis Research in Excellence Award committee.