November 17, 2011
Honoring a lifelong love of K-State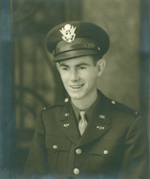 Wendell Brubaker grew up in Manhattan, Kan., and was an avid K-State fan his entire life. He met his wife, Ina, on a blind date, and they were married for 45 years. After serving in the U.S. Army during World War II, he transitioned his career into milling science, working as a cereal chemist in flour mills and grain elevators until his retirement.
Although he didn't graduate from K-State, the university was always in his heart. He and Ina rarely missed a basketball game, and he always talked about his days in Manhattan. They loved to take road trips and travel the country together, living life to the fullest until Brubaker died in May 1996.
Ina Brubaker began to think about how she could forever honor her husband and help the university he loved so much. At the encouragement of a close friend, she established a scholarship at K-State in his honor, the Wendell Brubaker Memorial Scholarship in Grain Science and Industry. With a $25,000 gift, Ina Brubaker was able to permanently endow the scholarship that will forever benefit the campus community that was near and dear to her husband's heart.
"Wendell loved K-State, and I think he would have appreciated this," Ina Brubaker said. "I hope that this scholarship helps provide an education to those who need it most and that I can do more in the future."