May 23, 2014
Cheryl Johnson named vice president for human capital
Submitted by Communications and Marketing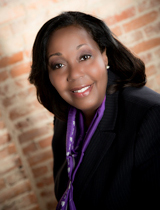 Following a national search, Kansas State University has named Cheryl Johnson, a highly experienced global human resources expert, as its first ever vice president for human capital.
Johnson has served as chief operating officer of JVisions Inc. in Kalamazoo, Michigan, since 2012. Johnson also has served as vice president at Meijer in Grand Rapids, Michigan, where she was the human resources leader for 60,000 employees in retail operations, supply chain and pharmacy retail.
Before joining Meijer, Johnson was a human resources leader at Wolverine World Wide, Whirlpool, Textron, Fluid Handling Products and DuPont. At DuPont she worked in several divisions, including agricultural products and automotive product's research and development center. She also has worked in Asia and Europe.
Beginning in mid-July, she will lead Kansas State University's human capital mission in support of the goals of K-State 2025.
"Cheryl Johnson is an exceptional leader who will guide us as we integrate and transform our human capital services here at Kansas State University to meet our 2025 goals," said Kirk Schulz, university president. "Her expertise throughout the globe as an HR leader will support the university's core asset — our people."
"I am delighted to have the opportunity to join the Wildcat family and serve as Kansas State University's first vice president for human capital," Johnson said. "I look forward to working with the university leaders and human capital staff to care for, support and grow our people so that we can sustain excellence, develop capacities and foster K-State's 2025 vision."
Johnson is a certified human resource professional and a certified conflict mediator. She is a member of the Society of Human Resource Management and the International Society of Human Resource Management. She volunteers for the Susan G. Komen Foundation and Habitat for Humanity, and serves on the board of directors for Housing Resources Inc. She also is a member of The Links Inc.
She earned a bachelor's in psychology from Oakland University and a master's in labor and industrial relations from Michigan State University.
A copy of Johnson's offer letter and contract is available.