May 27, 2014
Mary Todd, director of the K-State Women's Center, retires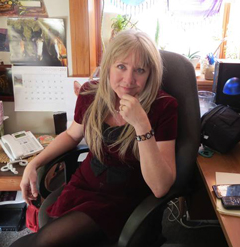 Mary Todd, K-State Women's Center director, is retiring effective June 8. Today is her last day in the office.
Todd's tireless efforts to reduce all forms of violence — especially sexual violence — have positively impacted the lives of all K-State faculty, staff and students. She has served hundreds — and perhaps even thousands — of students and families with care and compassion during some of the most trying times they may ever experience.
Well-wishes and sentiments thanking her for these efforts may be sent to Mary at mtodd@k-state.edu or K-State Women's Center, Holton Hall.
The university is in the process of revising position descriptions and has committed to increasing the Women's Center staff from one to two full-time positions to improve education, prevention and response efforts aimed at reducing violence, increasing reporting and supporting survivors. The anticipated start date for these positions is Aug. 1.
Persons wishing to access Women's Center services and support may do so by phone at 785-532-6444, email or office visit. The Office of Student Life staff will assume Women's Center responsibilities between May 27 and Aug. 1. Scott Jones, assistant dean of student life, will be the main administrative contact for the Women's Center during this time.
Persons wishing to report a crime of sexual violence also may do so by contacting the K-State Office of Institutional Equity otherwise known as Affirmative Action, or the K-State Police Department. University Counseling Services and the Manhattan Crisis Center are available for confidential support. Lafene Health and Mercy Regional Hospital are available for medical assistance.