October 31, 2011
Ernie Minton: Why I support the All-University Campaign
Submitted by Susan Wolf Berhow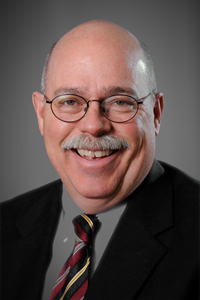 Giving to the All-University Campaign is a chance for all K-State faculty and staff to support the area of the university they care about most. For Ernie Minton, associate director of research and technology transfer for K-State Research and Extension, it's the ability to choose that makes supporting the All-University Campaign worthwhile.

"I give because it provides me the opportunity to contribute to the success of programs that benefit virtually all areas of the university missions of teaching, research and extension," Minton said. "The campaign allows us to find one or more KSU Foundation funds that align with our passions and support those funds directly. Fund activities vary from those providing more direct support to students and student clubs, to those impacting programs of benefit to the broader campus community. So, I think there is a fund for everyone."

Minton's support of the campaign isn't limited to giving. He also serves as co-chair of the campaign.

As of this week, 34 percent of K-State faculty and staff have made a gift to the campaign. Have you made your gift this year? To make your gift, visit our designation webpage to browse thousands of giving options.
QUICK LINKS:
Designate and give
See your work group's progress for 2011