May 19, 2014
From A.D. John Currie: Announcing new golf coach Grant Robbins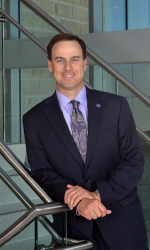 Good morning, Wildcat Nation!
This is a special week for K-State Athletics as we announced this weekend the hiring of Grant Robbins, a three-time coach of the year in two conferences who has guided six teams to NCAA Regional appearances, as our new men's golf coach.
Before I go into more detail about Coach Robbins and his family, I want to congratulate the 52 student-athletes who earned their K-State degrees over the weekend. We must never forget that the primary element of a World-Class Student-Athlete Experience is to give our young people the support they need to complete their degree requirements and be successful.
Of the 52 graduates, we awarded many of them with their senior K-State rings during our annual spring graduation reception Friday evening in the West Stadium Center. We will hold a special luncheon tomorrow for our rowing and track and field team graduates, who were away at conference competition this past weekend.
It was great to meet many family members of our graduates at our annual graduation reception, which included a terrific message from B.J. Finney to his fellow classmates.
And, congratulations to our rowers (third-place finish at Conference USA Championships), track and field athletes (three individual Big 12 titles) and baseball team (walk-off win over Texas on Senior Night) for outstanding performances yesterday!
More on Coach Robbins
We are excited to welcome Grant, his wife, Brooke, and children Bryce and Brayden to the Wildcat family. In fact, this will be a homecoming for Brooke as she is a Wichita native and a K-State graduate!
A proven program builder at UNC Wilmington and Memphis, where he has spent the last 11 seasons and is a member of the Tiger Hall of Fame, Coach Robbins has led Memphis to five NCAA Regional appearances, including four consecutive berths. The C-USA Coach of the Year in 2008 and 2012, Robbins has presided over 55 top-five team finishes in his 11 seasons at Memphis, including 11 tournament titles. Memphis captured the Conference USA (C-USA) Championship in 2012 on its way to the NCAA Championship. His Tiger squad competed in this past weekend's Raleigh Regional, and following our announcement today, he and his family will be heading to Manhattan later this week for a welcome reception and formal introduction.
Coach Robbins is a first-class teacher and coach and his reputation and ability to recruit and develop student-athletes set him apart throughout our national search. I believe Coach Robbins is the right person to lead our program to new heights, building on the foundation established by retiring Coach Tim Norris and the founders and supporters of Colbert Hills. I appreciate the efforts of Senior Associate ADs Casey Scott and Jill Shields as well as Assistant AD/Chief of Staff Clint Dowdle as they helped lead a successful national search for our next head coach. Please help me welcome the Robbins Family to K-State, and click here for our full announcement.
Five Programs Record Big 12-Best APR Scores
We have had several announcements over the course of the last week that solidify our position as a Big 12 leader in academic and athletic achievements. I am proud to report that all of our athletic programs met and exceeded the NCAA's Academic Progress Rate multi-year standard for the fourth straight year as the NCAA released its latest Division I APR data from the 2012-13 academic year. And even more impressive is that five programs – football, men's golf, women's golf, men's cross country and women's cross country – recorded figures that ranked No. 1 in the Big 12 in their respective sports! Also of note, the men's basketball and volleyball teams scored perfect current year marks (1.000) for 2012-13, while men's outdoor track (.991) and football (.986) had outstanding current year marks. Congrats to all of our coaches, student-athletes and support staff members on this terrific achievement – click here for our full release.
More Academic Accolades
Our baseball and track and field squads were honored this week with a total of 22 Academic All-Big 12 accolades on the year (11 from each squad). In all this season, a total of 101 student-athletes earned all-league recognition in the classroom. Individually, Petra Niedermayerova and Daniel Wood were honored with Academic All-District honors as both also qualified for NCAA postseason play in their respective sports. Daniel finished 38th this weekend at the NCAA Golf Regionals after shooting a final round 69, while Petra will resume NCAA Tennis singles play next weeK.
Track and Rowing Have Big Weekends
Coach Sweeney and the rowing team capped the spring season with arguably the team's best performance of the year at the Conference USA Championships. The squad was again in the hunt for the team title heading into the final race and placed third overall – ahead of programs such as Alabama, KU, Texas and West Virginia. Congrats to the entire rowing team which included a gold medal from the 1V4! Our track and field and squads are both wrapping up competition in Lubbock at the Big 12 Outdoor Track and Field Championships. So far the Cats have picked up three more conference titles as Devin Dick (decathlon), Erica Twiss (long jump) and Sara Savatovic (hammer throw) were crowned Big12 Champion. Check k-statesports.com for full results from Lubbock.
Men's Hoops to Host Texas A&M in Kansas City
In my last letter we mentioned new basketball series with SEC opponents Tennessee and Georgia, and late last week we announced that Coach Weber and our men's squad will host former Big 12 foe Texas A&M on December 20, 2014, in Kansas City's Sprint Center. It is an important goal of ours to bring K-State Basketball to our fans and in recent years when we have played in KC's world-class facility, the K-State Nation has showed up in force and packed the Sprint Center with purple. Let's do it again this winter! Season tickets for the 2014-15 basketball season will go on sale in late June – stay tuned for more details.
That's it for today. Again, congratulations to all of our graduates, and once again let's welcome the Robbins family as the newest member of our Wildcat family!
Go Cats!
John Currie