June 17, 2011
Dean of College of Education beginning phased retirement after end of 2011-2012 academic year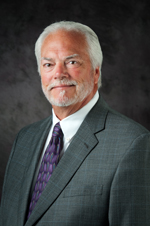 After 21 years as dean of the Kansas State University College of Education, Michael Holen will relinquish his position and enter phased retirement at the end of the 2011-2012 academic year.
"Serving the faculty, students, constituents and programs of Kansas State University for more than four decades has been an honor and privilege," Holen said. "Along the way my heart turned purple. I'm proud to have in some small way played a role in the tremendously positive impact our university has throughout the state, nation and beyond."
Holen came to K-State in 1971. He served as a professor, department head and associate dean before being named dean in 1990. In Holen's time at the university, the College of Education has developed nationally recognized programs, including those for the reform of teacher preparation and professional development, for serving dual language learners, for advanced education for both military and school leaders, and for providing access through distance education.
Holen was among College of Education faculty who helped nurture K-State's leadership studies program, now the School of Leadership Studies. The school named its Outstanding Leadership Award in Holen's honor.
In 1988 Holen received the Presidential Award for Distinguished Service to Minority Education and in 2004 was recognized as the Outstanding Alumnus in Education at the University of Oregon. In 2002 he was named the national Outstanding Rural Educator by ACRES. He has chaired the Regents' Council of Education Deans four times and served as K-State's faculty athletics representative to the Big 12 Conference for 11 years.
Holen earned a bachelor's degree in history and literature from Stanford University. He earned a master's degree and a doctorate in educational psychology from the University of Oregon.
K-State will conduct a national search for the next dean of the College of Education.