April 21, 2014
Working together to advance philanthropy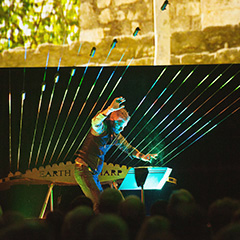 On the evening of April 5, following K-State's All-University Open House, the Celebration of Giving was held to thank the university's generous benefactors who are members of the President's Club at the level of $100,000 and above. This year, 113 K-State donors reached this level for the first time, or moved into higher levels.
President's Club is the universitywide recognition society for lifetime giving to any area of the university. Donors become members when their cumulative gifts reach $25,000. There are several levels of membership within the society.
This year's Celebration of Giving was especially memorable thanks to the collaborative efforts of Lori Goetsch, dean of K-State Libraries; Linda Duke, director of the Beach Museum of Art; and Todd Holmberg, director of McCain Auditorium, who made possible a special performance of "Maya Variations for Earth Harp" in the Great Room of Hale Library. This was an extension of the Creativity Illuminated activities that took place during the week of Open House. The School of Leadership Studies and the international programs office also helped to sponsor Creativity Illuminated.
The Creativity Illuminated celebration of cultural awareness was inspired by a philanthropic gift of a St. John's Bible from Warren and Mary Lynn Staley. The Staleys subsequently established an endowment that helps to support humanities programming and outreach activities throughout campus and surrounding communities. This was a great example of university and foundation staff working together to help donors unite their philanthropic desires with university priorities and advance K-State through philanthropy.
Fred Cholick
President and CEO
KSU Foundation
P.S. The Benefactor Wall outside the president's office in Anderson Hall carries the names of President's Club members whose giving has reached the level of $1 million or more. I encourage you to take the time to see this impressive list of university benefactors.