May 10, 2011
Chemist, research leader Peter Dorhout named dean of College of Arts and Sciences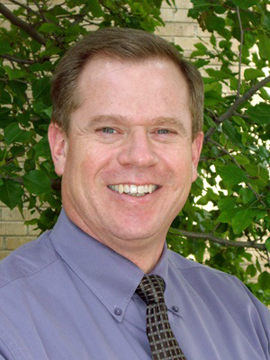 A chemist and academic leader with experience guiding university research will be Kansas State University's new dean for the College of Arts and Sciences.
Peter Dorhout will begin his new role Jan. 1, 2012. He comes to K-State from Colorado State University, where he is vice provost for graduate affairs and assistant vice president for research.
"Kansas State is an exciting new opportunity for me, staying connected with my land-grant roots while also joining a new cadre of outstanding faculty colleagues, bright and engaging students and passionate alumni," Dorhout said. "The wonderful, welcoming college-town environment is exactly the kind of new home my wife and I were seeking. Colorado State University has been a fabulous place to grow, learn and build a career over the past 20 years, so leaving will be difficult. However, the chance to help lead a vibrant and enthusiastic college like the College of Arts and Sciences at K-State is perfect."
Dorhout's experiences range from working as an industry research scientist to serving as a professor and associate dean.
"As Kansas State University works to become a top 50 public research university, strong research is essential," said K-State President Kirk Schulz. "Peter Dorhout has experience not only leading university research programs but also as a researcher himself. His contributions include developing interdisciplinary research 'superclusters' at Colorado State. This type of innovation exemplifies the research activity that will bring national prominence to K-State."
Among Dorhout's achievements are developing and raising funds for creating the Undergraduate Research Institute for Colorado State's College of Natural Sciences, as well as developing a graduate student retention plan and creating a strategy to boost the experience of postdoctoral researchers.
"Peter Dorhout brings a distinguished career of research, teaching, service and administration to the position of dean of the College of Arts and Sciences," said K-State Provost April Mason. "I feel he is uniquely prepared to serve this large, diverse and critically important college."
Dorhout also was involved in creating, funding and leading Colorado State's China Initiative and in leading the development of and funding for partnerships between Colorado State and higher education institutions in India.
Dorhout earned a bachelor's degree in chemistry from the University of Illinois at Urbana-Champaign and a doctorate in inorganic chemistry from the University of Wisconsin-Madison. His research specialties include thin film materials, environmental chemistry and actinide and radiochemistry. He has written more than 110 peer-reviewed articles, edited books and book chapters.
Dorhout's research has been funded by the National Science Foundation, the U.S. Department of Energy and the U.S. State Department. He is a member of several professional organizations, including the American Chemical Society and the Council of Graduate Schools.