April 17, 2014
Mapping 'The Ghost Map': Teaching the next K-State Book Network common read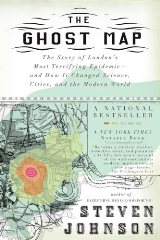 Looking for innovative ways to engage and challenge your students?
Whether you'd like to do some creative brainstorming or have an interest in participating in a campuswide endeavor, join us as we share, discuss and play through ways to use "The Ghost Map" by Steven Johnson in your classroom during the 2013-2014 academic year. Drop by anytime between 2:30-5 p.m. April 18 in 401 Hale Library to engage in the possibilities.
"The Ghost Map" relates the intertwined histories of cholera, cities and modern scientific inquiry, yet the ideas and lessons are not simply about the 19th century. You'll be able to draw parallels with contemporary problems from urban sprawl to bio-terrorism and many, many more.
Registration via email to bward@k-state.edu appreciated, but not required.