April 11, 2014
Climbing 101 class on April 13 at recreation complex
Submitted by Marian Brandenburg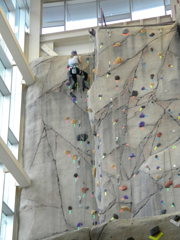 Climbing 101: Learning the Ropes is scheduled for 1 p.m. April 13 at the recreation complex.
A fun, two hour beginner-level course, intended to expand your knowledge of climbing in an indoor gym. By the end of this class, participants will learn basic climbing movements and techniques, as well as the types of hand and footholds and how best to use them effectively. This class will help you improve your climbing ability and also teach you some climbing basics and etiquette. It's a great way to improve your climbing experience.
Prerequisite: Current K-State climbing wall belay certification
Cost: Current K-State students, $7.50; Non-students, $10
Register for Climbing 101 before 5 p.m. in the recreation complex office or by calling 785-532-6980.