July 20, 2011
A letter from athletics director John Currie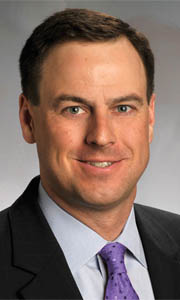 Good morning, Wildcats!

I trust you are enjoying a safe summer and have managed to keep cool throughout our recent heat wave.

Let's start off today's letter with a big thank you to all of our fans, alumni and friends across the country for their support and participation in the Ahearn Fund. Because of you, when the books closed on June 30, the 2011 fiscal year was the biggest ever giving year in K-State Athletics history.

Thanks to grassroots support our membership grew by 14.5 percent to an all-time high of 7,027; we surpassed our Ahearn Fund annual goal again, this time by $1 million; and total athletics gifts — not including pledges — reached $17.7 million, a 5 percent increase over FY 2010's then-record performance.
I appreciate the hard work of our Ahearn Fund staff, including Chad Weiberg, Laird Veatch, Mike Clark, Lon Floyd, Missy Heidrick and Andrew Hamor, in reaching out to our fans and being accessible as we move forward in achieving our goals. Congratulations are also in order to former graduate assistants Eric Holderness and Nate Warren who have been named assistant directors of the Ahearn Fund!
Facility momentum grows
We would also like to acknowledge our capital supporters, including seven individuals who have made individual gifts in excess of $1 million since fall 2009, enabling us to break ground on our $18 million Basketball Training Facility and build more momentum toward the department's new facility strategic goals designed to provide comprehensive improvements for all Wildcat student athletes and fans. Check out this picture of the limestone exteriors being installed on the new upper deck east side restrooms.

Your dollars in action
Here's another good example of how your Ahearn Fund dollars directly help K-State toward our goal of a world-class student athlete experience. We just recently purchased and took delivery of the advanced fluoroscope X-ray machine that will allow our medical and training staffs to provide better and faster diagnoses of potential injuries by taking and projecting continuous X-ray images on a monitor, all on site in our training room. So, because of your support, you have directly enabled all of our student athletes to receive even better and timely care from our outstanding medical and training staffs.

Football update
We appreciate everyone who has already purchased season or single-game tickets for the upcoming football and volleyball seasons. We need a full house Sept. 3 when Eastern Kentucky comes to Bill Snyder Family Stadium for the third annual K-State Family Reunion. Ticket sales are going strong and we want to ensure that we have a third-straight sellout for the season opener! We announced last week that the first two home games of the season will kick at 6:10 p.m. and are in the process of working with our television partners and the conference office in determining possible digital or telecast distribution opportunities for the two games. We will keep you posted. Big 12 Football Media Days are next week in Dallas!

Manhattan honored by Forbes
The city of Manhattan was recently named the No. 1 "best small place in America for business and careers" in an article by Forbes magazine. Not only is the city of Manhattan one of the true classic college towns in America and one of the top sports cities in America, according to Sporting News, but the growing environment for jobs, thanks in part to Fort Riley and the incoming NBAF facility, has catapulted the Little Apple to honors such as this. Be sure to check out the story from Forbes here.

American service to MHK grows again!
Manhattan Regional Airport air service keeps getting better and better with the announcement that American Eagle will add a fifth daily flight, and second from Chicago, this fall. Come see the Wildcats play!

Stacy Martin named president of CABMA
Last week Stacy Martin, assistant athletic director for business, was named the new president of the College Athletic Business Management Association. Stacy has been a terrific addition to our senior staff since joining the department in 2009-10. We appreciate her fiscal management. She's another example of the national standard for excellence we can achieve throughout all of our units, and we are excited to keep moving forward toward our goal of becoming a model intercollegiate athletics program.

Ojeleye honored by Big 12 peers
Five of our student athletes recently attended the Big 12 Student Athlete Advisory Committee meeting and Big 12 Leadership Summit in Norman, Okla. Senior-to-be Victor Ojeleye of the men's basketball team was elected by his peers as the new Big 12 Conference Student Athlete Advisory Committee vice chair for 2011-12. Congratulations Victor on this tremendous honor!

A really cool lunch
Earlier this month I had a fascinating visit over lunch with K-State professor Michael Wesch. If you are not familiar with him, read his bio by clicking here. Basically he's one of the most outstanding professors of cultural anthropology in the world, having been named the Rave Award recipient by Wired magazine for his studies of the effects of social media and digital technology on global society as well as the 2008 national professor of the year. He is a great example of why K-State is on its way to achieving President Schulz's vision of being a top 50 public research university!

That's it for today. The fall season is right around the corner and our student athletes, coaches and staff continue to work hard in preparation for 2011-12. Thanks for all you do in support of K-State student athletes.

Go Cats!

John Currie