May 27, 2011
Search for new associate provost for international programs to begin soon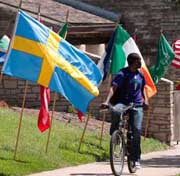 The office of the provost will soon announce the beginning of a search for a new associate provost for international programs.
"We will form a search committee and announce the name of the committee chair in the near future," said April Mason, provost and senior vice president.
"Because international experiences and programs are a vital part of Kansas State University, it will be important to fill this vital position in a timely manner."
The Kansas State University strategic plan, K-State 2025, is being developed with internationalization as a common element to all seven themes identified in the plan.
The search follows the recent resignation of R. Michael Philson, who has been at K-State since 2009.