May 19, 2011
K-State Athletics to Phase-Out University Funding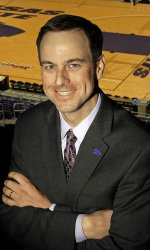 President Kirk Schulz and Director of Athletics John Currie announced Tuesday that the Kansas State Athletics Department will begin a three-year phase-out of university funds as an annual source of revenue in an effort to assist the university and help support critical academic programs and projects.
"Athletics is an integral part of the K-State experience and elevates the national exposure of Kansas State University," said Schulz. "John and I have worked together to develop a plan to eliminate, over a three-year period, university funding for athletics which will in turn allow these dollars to be used to meet critical needs in our academic programs. We are appreciative of the leadership and commitment of our athletics staff and coaches as we continue towards our goal of Kansas State University becoming a Top 50 research institution."
Provost April Mason, who serves on the K-State Athletics, Inc. Board of Directors, recognized the significance of the plan and the value it will provide the academic programs at K-State.
"I have been very impressed with the cooperative spirit that our intercollegiate athletics program has demonstrated in support of our overall academic goals and K-State 2025," says Mason. "We appreciate this significant financial assistance and President Schulz's willingness to prioritize these dollars for direct academic needs."
K-State Athletics, Inc., currently receives 3 percent, or $1.526 million of its annual budget of $47 million, from the general university budget. Beginning in the coming academic year, this direct university support will decrease by more than 33 percent to $1 million, followed by reductions to $750,000 in 2012-13 and $350,000 in the following year. Effective with the 2014-2015 academic year, K-State Athletics will no longer receive any direct university support.
"Adding value to the greater university and operating with fiscal responsibility are two of our five core goals," Currie said. "Thanks to the support and participation of Wildcat fans nationwide who attend K-State ballgames and support the Ahearn Fund, as well as the bright future of the Big 12, most recently evidenced by the new FOX television contract, we are able to take this important and historic step."
"With the No. 1 all-sports graduation rate in the Big 12 and facility upgrades underway like our new basketball training facility, we are indeed making progress towards our vision of a model intercollegiate athletics program," Currie added. "We are proud to support the tremendous leadership President Schulz is providing K-State."