March 28, 2014
Climate change in Kansas City topic for geographer's lecture March 31 at K-State Olathe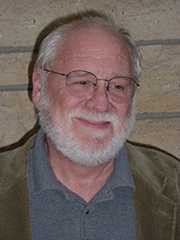 Considerable evidence exists that the climate for our planet is changing, with system modeling indicating that additional change is in the pipeline.
Mid-America Regional Council and the Urban Water Institute at K-State Olathe are sponsoring a presentation by John Harrington Jr., professor of geography, from 4-5:30 p.m. March 31 at K-State Olathe.
Harrington will provide updated information on the nature of global climate change, along with local examples of climate variation. The presentation is soon after a release of findings from the Intergovernmental Panel on Climate Change AR5 Working Group II on Impacts, Adaptation and Vulnerability.
Following the presentation, Harrington will be joined by panelists for further discussion. Panelists include:
Doug Kluck, central region climate services director, National Oceanic and Atmospheric Administration
Stacy Hutchinson, biological and agricultural engineering, Urban Water Institute
Ed Peterson, Johnson County commissioner