March 10, 2014
K-State researcher to discuss conservation biology, biodiversity for students of natural resources and environmental sciences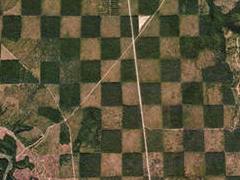 Kimberly With, professor of biology and director of the Laboratory for Landscape and Conservation Ecology at Kansas State University, will give a public lecture at 11:30 a.m. Tuesday, March 11, in the Little Theater at the K-State Student Union.
With will present "Advances in Conservation Biology: Can We Avert the Sixth Mass Extinction" and discuss conservation biology as a distinct science, the main threats to biodiversity, and current conservation research efforts. Her talk is aimed at students participating in the capstone course of the natural resources and environmental sciences secondary major and is open to the general public as part of the Natural resources and Environmental Sciences and Sustainability Science Seminar Series. Undergraduate students interested in natural resources, environmental science and sustainability issues are especially encouraged to attend.
The presentation is sponsored by the natural resources and environmental science secondary major and the office of sustainability.