March 3, 2014
Letter from A.D. John Currie: Celebrating a gift to K-State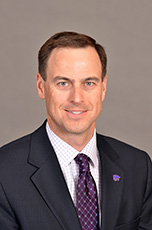 Good morning, Wildcat Nation!
It's hard to believe we are already heading into the month of March, which means our basketball, track and field and equestrian teams are gearing up for postseason action. Congratulations to both basketball teams on big road wins last week as the men knocked off Texas Tech in Lubbock and the women picked up a big Sunflower Showdown win over the Jayhawks in Lawrence. Before we dive into our regular department updates, I would like to share with you some exciting news.
President Schulz announces largest private gift in K-State history
Friday morning, President Schulz announced a $60 million gift from the Jack Vanier Family — the largest private donation in Kansas State's history! This historical gift will have a tremendous impact on the entire university community with $40 million benefiting students, faculty, programs and facilities on both the Manhattan and Salina campuses while $20 million of the gift has been designated by the family towards Phase III of the Bill Snyder Family Stadium Master Plan – the North End Zone project, which we announced several weeks ago. The support of the Vanier Family is one of the most consistent factors in the modern history of K-State Athletics and this gift will have a dramatic effect on our ability to get closer to our fundraising goals and the potential beginning of Phase III construction. All K-State coaches and student-athletes join me in expressing our appreciation for Jack, Donna, Marty, John and Mary Vanier.
From our dedicated fans across the country, who have packed Bramlage and created a 13 game sell-out streak at Bill Snyder Family Stadium, to local Catbacker clubs, $50 annual Ahearn Fund members and transformational gifts like the Vaniers', K-State Family members have come together like never before to provide Wildcat student-athletes a world-class experience and drive momentum towards the vision of a Model Intercollegiate Athletics Program. Thank you and let's drive on!
And now for some additional updates from around the department:
Football season tickets on sale today
With the start of spring football practice just about a month away, and our full schedule now in place, excitement is building for the 2014 season. Fans can secure their seats for one of the best home schedules in K-State history beginning Monday as season tickets go on sale. Public season bench seating is priced at $320 again this season, a cost of $46 per game, while chairback seating remains at $355 or $51 per game. Prices for K-State faculty/staff are $255 for bench and $285 for chairback – a cost of $36 and $41 per game, respectively. A Young Alumni ticket package is available at only $200 for K-Staters who received their undergraduate degree since December 2009.
While there are several single-game promotions and combo packages for numerous games, new for 2014 is a "Wildcat Pricing" model for key games against Auburn, Texas and KU — should any single-game premium bench tickets remain available after season ticket sales conclude. This unique concept will start with remaining reserved premium bench seats priced at $225 per ticket. Each week that any of these tickets remain available, the price will drop $25 until all remaining seats are sold. It is important to note that every fan who purchases a "Wildcat Pricing" ticket will pay the same lowest price. So, if you buy a ticket at $225 during the first week, and the final lowest price when all tickets are sold is $125, then you would be refunded $100 from your original purchase. All premium seats available in this option, which are located in sections 2-9 and 20-23, will be sold for no less than $100 per ticket.
Be sure and reserve your place in Bill Snyder Family Stadium beginning today!
A Look Inside K-State Athletics
You've heard me say many times how proud I am of our entire staff for their hard work and relentless efforts toward our vision of a Model Intercollegiate Athletics Program. One of my favorite events occurs each month when all 150-plus members of our staff, including our coaches, meet for 45 minutes in the team room at the Vanier Complex. These meetings serve as a way for us to discuss current national events in athletics, department initiatives, and we also welcome a special guest from the university to discuss their particular program or specialty area.
For instance, last Thursday John Floros, dean of the College of Agriculture, visited with us about the college's nationally-ranked academic programs and international impact K-Staters have in the field of agriculture. It is very important for all of our staff to meet and be engaged with our university community as we all work toward President Schulz's K-State 2025 vision of becoming of Top 50 public research university. We also were joined at yesterday's all-staff meeting by former Wildcat tennis student-athlete and current Ahearn Fund NLC member Mike Goss, who shared a few inspirational words to the staff. Mike is a good friend and a terrific K-Stater who, following his days at Great Bend High School and K-State, has gone out and achieved great things in the world and positively impacted so many people – just like so many of our great fans and supporters!
That will do it for today. The madness of March is beginning!
Go 'Cats!
John Currie