October 14, 2011
A design for learning: K-State's largest lecture hall reopens for class with new technology for easier learning
Submitted by Communications and Marketing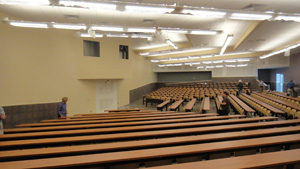 The number of seats may have decreased slightly in Kansas State University's biggest lecture hall, but the capacity for learning has increased exponentially. The finishing touches are being completed on an extensive renovation in 105 Umberger Hall, which will open to students Monday, Oct. 17.
The lecture hall has been undergoing a renovation since May, forcing faculty and students who would typically begin meeting for class in August to meet in rented space until the room could be finished. Its now been transformed into one of the most technologically advanced classrooms on campus.
Dale Rivett, associate director of building maintenance with the Division of Facilities and Umberger project consultant, said that although the lecture hall's seating has decreased from 464 to 444, the room's added technology and convenience more than makes up for the small loss.
"The High Technology Committee asked the faculty what they didn't like, and they said the seats were too far away, making it difficult to interact with the students," Rivett said. "The tablet-style desks weren't very comfortable, either, and provided little room for students to spread out."
Now, these problems and more have been solved. The room was reoriented, with students now facing east instead of south, allowing for the furthest seat in the back to be only 42 feet from the podium at the front. Before, that seat would have been 85 feet from the front. Desk space, which used to be limited to 18 inches, has been increased to as much as 22 inches, complete with an electrical outlet for each student to work in a wireless environment.
Technology improvements include an upgraded sound system, improved lighting and better acoustics. Rivett said smaller flat-screen TVs have also been placed underneath the large projector screens in order to make it easier for students sitting up front to see without neck pain. Cameras will also be added so presentations can be taped.
"The room was outdated, gray on gray," he said. "Now, there will be better functionality for students, making it easier to interact and a more pleasant room to be in. They'll have a much harder time falling asleep in class."
An in-house architect, Mark George, designed the room, with much of the remaining work completed by local companies. Rivett said although K-State does not get the opportunity to do a major transformation like 105 Umberger very often, the 4,900 students who go through the room each semester warranted the change.
"That's a big impact across the university," he said. "It was necessary for creating an improved learning environment.
The university usually upgrades one or two lecture halls each year, Rivett said, with classrooms in places like Cardwell, Throckmorton and Bluemont halls possibly seeing similar upgrades in the coming years as funding allows. He added that he and the rest of K-State's Division of Facilities appreciated the patience of the faculty and students who were displaced while they waited for the lecture hall to be finished.