January 27, 2014
Do you love the prairie? Volunteer training begins Feb. 15 at Konza Prairie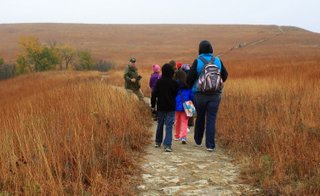 Do you have a love of the prairie that you would like to share with others? Is hiking the nature trail at Konza Prairie one of your favorite activities? Do you have a deep curiosity and a love of learning? If so, then we would love for you to be a volunteer — or docent — at Konza Prairie.

Beginning Saturday, Feb. 15, at 9 a.m., Konza Prairie will be host its Volunteer/Docent Orientation. Come visit that morning and learn about our volunteer program and how you can be a part.
Being a volunteer at Konza Prairie involves more than one day of training. We train you during 10 Saturday morning sessions on topics pertinent to the tallgrass prairie and the Flint Hills, including: geology, history, botany, fire management, and ecology.
"Konza Prairie volunteers are the backbone of our educational program," said Jill Haukos, director of the Konza Environmental Education Program. The program hosts around 4,000 visitors each year — kindergarten-12th grade — and provides them with guided hikes and tours as well as the opportunity to participate in hands-on science exploration.
If interested, please join us from 9 a.m. to noon Feb. 15 for an orientation session and to see if our program might work for you. You do not need to sign up in advance, just come that Saturday to get more information.
Directions to Konza Prairie: From Highway 177 head south out of Manhattan, going over the Kansas River. Immediately past the bridge you will turn right — west — on to McDowell Creek Road, proceed 6.2 miles. Turn left — south — onto Konza Prairie Lane and travel 1 mile south on this gravel road — past the Nature Trail kiosk — until you see the stone house and barn. Park where you see other cars and enter the stone barn.
From Interstate 70 – Take Exit 307 on McDowell Creek Road and proceed north/west 4 miles. The entrance to Konza Prairie will be on your right or south.
Contact Jill Haukos at 785-587-0381 for more information.