January 21, 2014
Women's basic self-defense class offered at recreation complex
Submitted by Recreational Services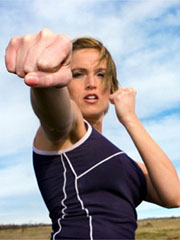 Recreational services and K-State's Wildcat Wellness Coalition are offering a physical self-defense program designed to empower women. Learn proven strategies and techniques needed to respond to real-life aggression. Moves are based on Jujitsu and modern combatives and will be taught by nationally certified, expert instructors.
Sign up for this six-week women's basic self-defense class in the office at the recreation complex. The class begins Feb. 4, consisting of two one-hour sessions each week on Tuesday and Thursday from 4:30-5:30 p.m. in the small gym at the recreation complex. Cost: $60 students, $90 Rec members.
Call the rec office at 785-532-6980 for more information and to enroll.