January 10, 2014
Rolley's leadership of landscape architecture and regional and community planning department to continue
Submitted by Communications and Marketing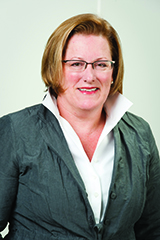 Ensuring that her department's programs remain among the best in the nation and make significant contributions to Kansas State University's 2025 plan to be a Top 50 public research university are among the goals Stephanie Rolley has set as she heads K-State's landscape architecture and regional and community planning department for another five years.
Tim de Noble, dean of the College of Architecture, Planning & Design, recently renewed Rolley's appointment to the post. She has served as head of the department since 2009 when she was selected for the job following a national search.
"The review, while mandated, provided us an opportunity to take stock of the many accomplishments that department faculty and staff have achieved under and through Stephanie's leadership," de Noble said. "The findings of the review verified my experiences in working with Stephanie these past five years. She is a steadfast advocate of her department and college. She enables, supports and recognizes excellence in her faculty, staff and students. She is also an impressive and effective representative of our educational programs and professions at the local, regional, national and international levels."
Rolley joined the university in 1987 as an assistant professor of landscape architecture, becoming a full professor in 2003. In addition to department head, she's served as associate department head and director of the department's Master of Landscape Architecture program. She also helped develop the department's nonbaccalaureate master's degree tracks in landscape architecture and regional and community planning, which are among the best in the nation. Rolley also has provided direction for the online Master of Science in community development offered by the Great Plains IDEA consortium.
"My primary goal is to ensure that the landscape architecture and regional and community planning programs are well positioned to build upon and continue the success of our DesignIntelligence rankings and our historic strengths," Rolley said. "Landscape architecture ranks second in the nation and first in the region. Regional and community planning is a regional leader in the discipline. These professions are in high demand as communities retrofit aging infrastructure and address expansion and revitalization with increasing population densities, urban redevelopment and climate change."
An award-winning educator and landscape architecture and planning professional, Rolley is a fellow of the American Society of Landscape Architects and a member of the American Institute of Certified Planners and the American Planning Association. She earned a Bachelor of Landscape Architecture from Kansas State University and a master's in city planning from the Massachusetts Institute of Technology. She also completed the Management Development Program offered through Harvard University's Graduate School of Education.
Rolley, a registered landscape architect, has worked in private practice as a landscape architecture and urban designer in Boston, Dallas and San Antonio.
Among her many honors include serving as the college's Mary K. Jarvis Chair in Landscape Architecture from 2005-2007 and 2008-2009. She was the co-recipient of the Collaborative Practice Award from the Association of Collegiate Schools of Architecture in 2000, earned an Urban Parks National Award from the Landscape Architecture Foundation in 1995 and a National Award of Distinction from the Council of Educators in Landscape Architecture in 1993. She also has been recognized by the college, Mortar Board honor society and the Office of Student Activities and Services as an outstanding teacher and adviser. Rolley serves on the Landscape Architecture Foundation board of directors, the Landscape Architecture Accreditation Board and as a Planning Accreditation Board site visitor.
"We look forward to this next chapter of excellence with Stephanie at the helm of landscape architecture and regional and community planning," de Noble said.