December 20, 2013
Letter from A.D. John Currie: Ending one year, starting another with K-State sports excitement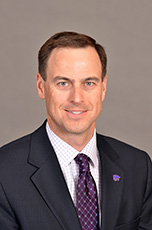 Dear Wildcat Nation,

At this special time of the year, I would like to wish each and every one of you Happy Holidays, a Merry Christmas and Happy New Year from both the Currie and K-State Athletics families.

For many of us, in addition to spending time with our friends and families, the holidays are synonymous with K-State bowl games, and I know we are excited to head back to the Valley of the Sun this year. We look forward to seeing a sea of purple in Arizona next week! I am so proud of Coach Snyder and our team for the resiliency and perseverance displayed this season which has culminated with a Dec. 28 matchup in the Buffalo Wild Wings Bowl against the Michigan Wolverines, college football's winningest program.

As a reminder, great seats in the official K-State allotment of Sun Devil Stadium are still available, and these locations are among the best of any bowl game. If you haven't made your plans or bought game tickets, be sure and visit k-statesports.com/bowlgame for more information, including pep rally and other bowl week details. There is still time to secure your spot for what will be another exciting postseason bowl experience; and it would make a nice Christmas gift!

Wichita Wildcat Classic on Saturday

Before heading to Arizona we have another event in our home state as Coach Weber and our exciting young men's basketball team, currently at 7-3 on the year, will host No. 15 Gonzaga on Saturday in the Wichita Wildcat Classic at INTRUST Bank Arena. Ticket sales have been terrific and a sellout is possible, but fans can still purchase tickets for as low as $12 for upper-level ends of the arena, while there remain options for lower-level ends and upper-level midcourt seats for $35 and upper-level corners for $20. These tickets are available through the game's website – PaintWichitaPurple.com – as well as all Select-A-Seat locations at or by calling 855-755-7328. If you can't make it to the game, be sure and tune into ESPN2 beginning at 2:30 p.m. for this nationally-televised matchup. And during the holidays don't forget about the Dec. 28 men's game against Tulane (4 p.m. on FOX Sports 1) at the world-renowned Barclays Center in Brooklyn, N.Y., and a home contest at 2 p.m. on New Year's Eve against George Washington.

Pack the House Set for Jan. 18

While it is still several weeks away, mark your calendars for Jan. 18 for an action-packed Saturday on the K-State campus. The track and field squads will get the day rolling with the Wildcat Invitational in Ahearn Field House before the men's basketball team hosts Coach Bob Huggins and the West Virginia Mountaineers at 12:30 p.m. inside Bramlage. Then, later that evening, Coach Patterson and our women's team will host Iowa State at 7 p.m. in our "Pack the House" game for 2013-14. All tickets to the game are just $1 and selected concessions will also be available for a $1 – would be a great stocking stuffer gift and outing for the whole family! Let's pack Bramlage as K-State has won the Pack the House initiative two out of the last three years! But before then, a weekend trip to Hampton, Va., and a Dec. 28-30 trip to San Diego await the women's squad before opening Big 12 Conference play on Jan. 2 at home against Baylor.

Kudos to K-State Alumni Association

I would like to take a moment to commend our staff at the K-State Alumni Association, led by President Amy Button Renz. Earlier this week, on one of my AA flights from MHK to Chicago, I had the opportunity to read the winter edition of the K-Stater magazine, which is edited by Andrew Zender (Class of '05) who also happens to be the son of former Wildcat basketball great Bob Zender. I have always held this publication in high regard, but I thought the most recent issue was the total package – from a story on our volleyball team's trip to Russia to a feature on the new business school project and anecdotes about students working their way through college. If you haven't read the winter edition of the K-Stater, which is a benefit of being a member of the K-State Alumni Association, I highly recommend it. For more information on how to join the association, visit k-state.com.

Finally, in the spirit of the holiday season, check out this story by K-State Sports Extra's Kelly McHugh on our baseball team raising money for Christmas gifts for a local family — just one of the many community outreach activities all of teams take part in. Make sure you are receiving our free daily emails with stories from Kelly and Mark Janssen.

That will do it for today. I hope everyone has a wonderful and safe Christmas, and I look forward to seeing a packed INTRUST Bank Arena on Saturday and a large purple contingent in Arizona next week!

Go Cats!

John Currie