December 16, 2013
Benjamin is new associate dean for academic affairs at the College of Arts and Sciences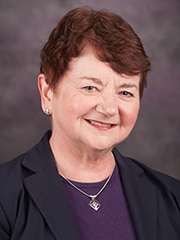 Louise Benjamin has accepted the position of associate dean for academic affairs in the College of Arts and Sciences at Kansas State University. She is currently a professor in the A.Q. Miller School of Journalism and Mass Communications and holds the Ross Beach chair in mass communications.
"We are thrilled to have Dr. Benjamin join us in the dean's office," said Peter Dorhout, dean of the College of Arts and Sciences. "She is a recognized scholar whom we are pleased to have lead our academic affairs activities — she will build on the momentum we have gained on our path toward Vision 2025."
Benjamin joined the faculty at Kansas State in 2008. In 2012, she served as the interim director of the Miller School. Before coming to K-State, she taught at Indiana University and the University of Georgia. While at the University of Georgia, she served as the associate director and interim director of the George Foster Peabody Awards. She has has leadership roles in several academic communication associations, including the Association for Journalism and Mass Communication, the International Communication Association, the National Communication Association and the Broadcast Education Association. Before entering academe, she was a director/producer for WHO-TV in Des Moines, Iowa.

Benjamin received her doctorate in mass communications from the University of Iowa in December 1985 and has published two books and numerous articles on the history of electronic media. Her book, "Freedom of the Air and the Public Interest: First Amendment Rights in Broadcasting to 1935," received the Franklyn Haiman Award for Distinguished Scholarship in Freedom of Expression from the National Communication Association. She will assume her new responsibilities in January 2014.