December 12, 2013
Crops Team wins fifth straight national championship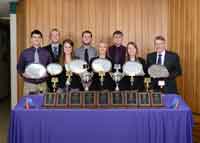 The Kansas State University Crops Team recently captured the title of national champion for the fifth year in a row. K-State teams have won the crops contest championship in 12 of the past 15 years. To win the 2013 national title, the team won both the Kansas City American Royal Collegiate Crops Contest on Nov. 19 and the Chicago Collegiate Crops Contest on Nov. 23.
K-State placed first at both contests in plant-and-seed identification and grain grading, and second in seed analysis. Individually, the three K-State team members completed a rare sweep of the top three places in both contests.
Official members of the K-State team were Jeri Sigle, senior, Council Grove; Nathan Larson, sophomore, Kensington; and Morgan Halderson, senior, Delphos. Alternates were sophomores Sam Knauss, Paola; Tyler Herrs, Linn; and Ben Coomes, Girard. All are agronomy majors except Sigle, who is majoring in agricultural education with a minor in agronomy.