December 17, 2013
Entomology graduate student receives national award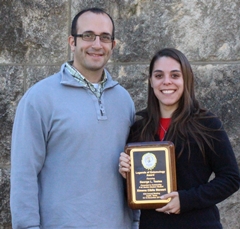 Entomology graduate student Ximena Cibils-Stewart was recently honored with the 2013 Plant-Insect Ecosystems Legends of Entomology Award for Master Student Achievement at the 61st annual meeting of the Entomological Society of America in Austin, Texas.
This award recognizes aspiring entomologists who exhibit exceptional potential during their Master of Science programs. Students are selected based on their graduate research project, creative approaches to teaching, exemplary outreach and service to the discipline. Cibils-Stewart completed a dual major in biology and entomology at Iowa State University prior to starting her degree at K-State in spring 2011.
During her tenure in the Department of Entomology, she has presented her research in local, regional and national venues and receiving accolades for work. Ximena received the Fred Clute Endowed Scholarship from the Department of Entomology in 2012, which recognized her scientific contributions, and more recently received the 2013 O.W. (Spide) Morris Service Award from the department for her exceptional service. In 2013, the Kansas State University Chapter of the Golden Key International Honor Society recognized Ximena as the 2013 Outstanding Graduate Research Assistant of the Year. Her thesis, which she successfully defended in October, titled "Influence of plant architecture on tritrophic interactions between canola, aphids and Hippodamia convergens" is a significant contribution to the scientific literature on plant-insect interactions. She has been a tremendous ambassador for the department and Kansas State University and is well deserving of this recognition. Ximena is graduating from Kansas State with her M.S. degree in Entomology in December, 2013.
Ximena is advised by Brian McCornack (Department of Entomology). McCornack had the privilege of introducing Ximena prior to her accepting the award and was recognized by the Plant-Insect Ecoystems Section of the Entomological Society of America for his outstanding student mentoring.