November 15, 2013
2013 All-University Campaign deadline is today
Submitted by Susan Wolf Berhow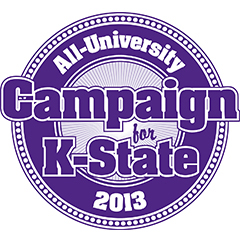 It's the final day to make your All-University Campaign gift! If you haven't made a gift to the All-University Campaign for K-State yet, we need your help to break records again this year. As of Thursday, 41 percent K-State faculty and staff have participated in the All-University Campaign. That's just one percentage point shy of last year's record 42 percent participation.
To have your gift count toward this year's campaign, be sure to complete your gift by the end of the day today. Remember, your gift to the All-University Campaign can be directed to the area of K-State you care about most. There are two ways to give:
Make a gift online. You can browse options and give online.
Fill out the contribution form. The form was included in your Guide to Giving packet distributed in September. You can also download a form.
The All-University Campaign is a powerful way for us to advance our great university. Every gift, regardless of the size, makes a difference.
See your work group's participation stats.
Make your gift in honor of someone. When giving online, you can now make a gift in honor of someone — and then create a personalized PDF card to share the news. Choose from multiple occasion templates and print or email your card directly to your co-worker, friend or loved one. It's a great way to show your appreciation and promote K-State's culture of philanthropy. Note: This option will be available to you at the end of your online giving transaction.