November 14, 2013
The K-State Mock Trial team finishes fourth at U.S. Air Force Academy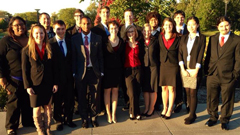 The K-State Mock Trial Teams wrapped up its fall tournament schedule with a strong performance at the U.S. Air Force Academy in Colorado Springs, Colo. The varsity team placed fourth overall. Haley Claxton, junior, Olathe, and Torrey Peterson, senior, Wamego, ranked as top attorneys. Sam Cox, senior, Wamego, ranked as a top witness.
Two weeks prior, the K-State trial teams competed at Drake University in Des Moines, Iowa. The varsity team placed seventh overall. Claxton ranked top attorney. Hale Weirick, junior, Overland Park, and Arielle Monroe, senior, Olathe, ranked as top witnesses.
During the spring semester the Mock Trial Team will compete in Missouri, Iowa and Kansas. Learn more or support the team by contacting Bondy Kaye at bondyk@k-state.edu.