November 7, 2013
Kansas State club soccer team wins regionals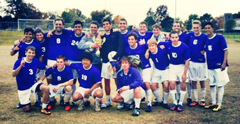 On Nov. 1-3, the Kansas State club soccer team traveled to Bentonville, Ark., to compete for the Kansas/Missouri Soccer League Region lV Tournament.
After losing to Oklahoma and tying Washington University, Kansas State came out of the pool stage with the tournament's lowest seeding. The first game of the tournament was a play-in game between K-State and Arkansas.
After beating Arkansas in a penalty kick shootout, K-State then preceded to beat Missouri 1-0 in the quarterfinals and then Wichita State by 2-1 in the semifinals. K-State beat Washington University 3-2 penalties in the final game to come home as regional champions. Winning regionals also qualifies the K-State club team for nationals on Nov. 20-23 in Phoenix Ariz.