November 12, 2013
'Half the Sky' film screenings Nov. 12 featuring two segments: 'Forced Prostitution,' 'Sex Trafficking'
Submitted by Alexandria Kieffaber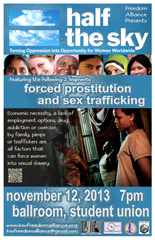 Freedom Alliance will be showing two segments from the "Half the Sky Movement," a four-hour television series for PBS and international broadcast. "Forced Prostitution" and "Sex Trafficking" will be shown at 7 p.m. Tuesday, Nov. 12, in the Union Grand Ballroom.

These segments show the circumstances that forced women and girls into sexual slavery, which opens up the door to discover the changes that need to be done to end this. The "Half the Sky Movement" is cutting across platforms to ignite the change needed to put an end to the oppression of women and girls worldwide and turning it into opportunity by not only raising awareness but providing concrete steps to fight these problems. Change is possible and you can be part of the solution.
"Forced Prostitution" will discuss no matter how a girl enters prostitution — whether she is responding to the pressures of her circumstances or is actually coerced — the experience leaves a lasting imprint on her future. Economic necessity, a lack of employment options, drug addiction or coercion by family, pimps or traffickers are all factors that can force women into sexual slavery.

"Sex Trafficking" will discuss the book "Half the Sky," in which it is estimated that around 3 million women and girls, and a small number of boys, worldwide are currently enslaved in the sex trade — bought, held and forced into commercial sex work against their will. Though it's difficult to estimate just how many women and girls are impacted by sex trafficking, in part because you can't easily divide sex workers into those who are working voluntarily and involuntarily. This figure may even be on the conservative side, as it doesn't account for people who were intimidated into prostitution or the millions more under 18 who can't consent to working in brothels.

Even though forced prostitution and sex trafficking is a problem in both genders, these segments focus on the women and girls who are oppressed.