November 4, 2013
Results of 2013 information technology services satisfaction survey at K-State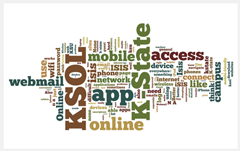 To get a better picture of satisfaction with technology and services as well as to assist with decisions as we move forward in support of K-State 2025, information technology services surveyed students, faculty and staff in April 2013.
Overall, respondents were satisfied with the information technology services offered and were favorable about specific services. When asked to identify the services needed to make it easier to work or study, comments centered around wireless and the email system. Information technology services is addressing concerns about the email system with the migration from Zimbra to Office 365.
Wireless locations: Student, faculty and staff groups listed places across campus to enhance wireless, from everywhere to Bill Snyder Family Stadium.
Wireless coverage also is at the top of the information technology list for improvements as funding becomes available.
The survey was emailed to a random sample of 5,000 students and 2,500 faculty and staff. Both categories yielded 325 completed surveys, representing a 7 percent response rate for students and 13 percent response rate for faculty and staff.
Survey questions included general satisfaction with availability, delivery and support for technology services offered, and questions about specific services offered. Faculty were also asked questions about technology classrooms, data storage, and locations for web conferencing and lecture capturing.
In support of the student body president's platform on mobility, students responded to an open-ended question about data or applications that they would like to be more mobile-friendly.
Other points pertinent to the survey:* The 24-hour computing lab in Hale Library was another issue that raised
concern among students.
The 24-hour computing lab in Hale Library was another issue that raised
concern among students.
Java updates resulted in comments about popups in the computing labs during spring semester.
Connectivity to buildings to improve performance within and among buildings.
Faculty asked for a one-page summary of services.
When asked how best to communicate, 85 percent of student respondents and 69 percent of faculty and staff respondents prefer to receive their information via email, followed by K-State Today.
Survey summaries are available in the following Knowledge Base articles, along with links to the complete reports.