June 6, 2011
K-State football single game tickets now on sale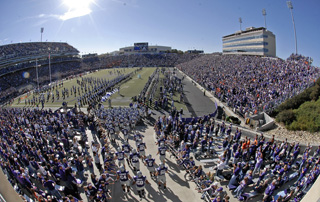 MANHATTAN, Kan. – Single game tickets for Kansas State's seven 2011 football contests at Bill Snyder Family Stadium are now available in an exclusive online sale only at K-Statesports.com. Fans can begin purchasing tickets in person or via telephone through the K-State Athletics Ticket Office beginning June 13.
The Wildcats' 2011 home slate will feature a record five Big 12 Conference games in the inaugural season of the Big 12's nine-game league schedule and will include numerous options and price levels beginning September 3 with the third-annual K-State Family Reunion against Eastern Kentucky.
A limited number of $10 tickets will be available for the season opener, which will include a postgame fireworks show, and must be purchased prior to June 30.
"We are excited for the 2011 season as we begin a new era in the Big 12 Conference and want the entire K-State family to be a part of the action, starting with our K-State Family Reunion on September 3," Athletics Director John Currie said. "As part of our commitment to the best fan experience in the Big 12, we have ticket options and prices to fit every family schedule and budget. We appreciate our fans' support last season as we set numerous attendance records and want to continue to have a sold-out atmosphere each Saturday at Bill Snyder Family Stadium this fall."
Bowl/sideline level seating will be priced at $35 for the Eastern Kentucky (9/3) and Kent State (9/17) games, while view level seats, which will feature newly-constructed restroom facilities in 2011, are $20. Fans can also purchase a four-pack of tickets to either of the first two home games for $75, while groups can attend the first two contests at $20 each for 12 or more tickets, or $10 each for ticket purchases of 50 or more.
Tickets for the Baylor (10/1) and Iowa State (12/3) games are priced at $55 (bowl/sideline) and $35 (view level), while four-packs are available for those two games for just $99. Quantities and seat locations are limited for the four-pack options. Group tickets are available at $30 each for groups of 12 or more and $20 each for groups of 50. Combo packages can also be purchased for $85 when you pair an Iowa State game ticket with either the Missouri, Oklahoma or Texas A&M games.
Missouri (10/8) and Texas A&M (11/12) tickets are available for $65 (bowl/sideline) and $50 (view level), with rates of $40 per ticket for groups of 12 or more.
All public tickets for the October 29 Homecoming matchup with Oklahoma are priced at $65. K-State Alumni Association members or Young Alumni can buy tickets to the homecoming game for just $40 if purchased prior to September 1, a savings of $25.

"I have such a tremendous amount of appreciation for our fans and what they mean to our program," added head coach Bill Snyder. "They continue to respond in record fashion in support of the young people in our program. We hope to continue to make progress and know that it has always been a genuine team effort from the entire Kansas State family to help us move in the right direction: our players, coaches, support staff, administration, faculty and above all, our fan support base."
Season tickets for the seven-game 2011 schedule also remain on sale, including a limited number of North End Zone and View Level (sections 420 and 430) seats at $210 each. For more information regarding tickets, contact the K-State Athletics Ticket Office at 1-800-221-CATS or visit K-Statesports.com. A copy of the 2011 ticket brochure, which includes all ticket prices and options, is also available online at k-statesports.com.
In 2011, K-State will look to continue what has been a very successful run on the field. Kansas State was one just six schools nationally this year to have its football team in a bowl game, both basketball teams in the NCAA Tournament and its baseball team make an NCAA Regional.