June 7, 2011
Infectious disease expert with international research experience selected to lead Biosecurity Research Institute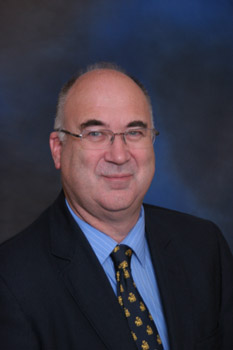 An expert in vector biology, arthropod-borne infectious diseases, immune modulation and vaccine evaluation is the newest leader of the Biosecurity Research Institute at Kansas State University.
Stephen Higgs comes to K-State from the University of Texas Medical Branch in Galveston, where he is a professor in the department of pathology and director of the biosafety level-3 insectary. His particular research interests are mosquito-virus-vertebrate interactions. He will begin his new position in July.
"I am very excited to be joining the Kansas State team," Higgs said. "The existing expertise in animal and plant diseases and in food safety and security at K-State -- combined with the dedicated leadership, faculty and staff committed to advancing education and research to achieve the K-State 2025 goal -- is truly outstanding. The BRI has unique research and training capabilities that will allow K-State to develop collaborations with local and international groups and companies, whilst work with federal agencies to facilitate NBAF research will ultimately enhance the nation's security."
Located in Pat Roberts Hall, the Biosecurity Research Institute is a biosafety level-3 and biosafety level-3 ag facility that studies infectious diseases affecting the food supply. In addition to directing the institute, Higgs will also serve two other roles: Peine Professor for Biosecurity in the department of pathobiology and diagnostic medicine and associate vice president for research, facilitating bio-preparedness research campuswide. While at K-State Higgs will remain editor-in-chief of the international journal Vector-Borne and Zoonotic Diseases.
"The experience and credentials that Stephen Higgs brings to the K-State family is what will help us reach our goal of becoming a top 50 public research university by 2025," said K-State President Kirk Schulz. "With him at the helm of our biosafety level-3 laboratory, our national renown in animal health will be strengthened even more."
Higgs earned a doctorate in parasitology from Reading University in the United Kingdom and a bachelor of science with honors in zoology from King's College in London. He was involved in training and research at the London School of Hygiene and Tropical Medicine and at the Institute of Virology and Environmental Microbiology, Oxford in the United Kingdom before coming to the United States in 1991.
Higgs is experienced in developing collaborative, multidisciplinary research projects and has organized training in biocontainment facilities for researchers from other universities and other countries.
"Stephen's expertise is unparalleled when it comes to experience in facilities like the Biosecurity Research Institute," said Ron Trewyn, vice president for research at K-State. "The fact that he has organized collaborations with leading research universities and other public and private-sector entities shows that he is an excellent choice to manage our growing research programs and expand the institute's biosafety, biosecurity and biocontainment education programs."
Alfonso Torres, associate dean for public policy at the Cornell College of Veterinary Medicine, serves on the Biosecurity Research Institute advisory board. He has Higgs lined up to lecture at the 11th International Transboundary Animal Diseases course at the Plum Island Animal Disease Center in New York. The center is being replaced by the National Bio and Agro-Defense Facility, which is under construction adjacent to the K-State campus.
"Stephen's expertise in medical entomology and many important arthropod-borne diseases is a great asset not only for K-State but for the future NBAF and for the current education and research programs on the most important animal diseases affecting the livestock industries and public health," Torres said.