September 27, 2013
Nominate a young graduate for the Distinguished Young Alumni Award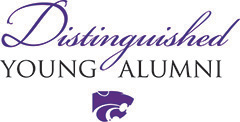 The Student Alumni Board, a program of the K-State Alumni Association, is seeking nominations for its Distinguished Young Alumni Award.
The award, which was established in 2012, recognizes two Kansas State University graduates who are using the leadership and service experience they acquired at K-State to excel in their professions and contribute to their communities.
"We encourage K-Staters to honor outstanding graduates by nominating them for this award," said Megan Sherlock, associate director of student programs for the Alumni Association.
Anyone in the K-State community may nominate a graduate for this award. The individual must be 35 or younger at the time of nomination and have graduated from K-State. Nominations are due by Oct. 10.
Selections will be made by a committee of Student Alumni Board members and members of the Alumni Association board of directors.
The award recipients will be notified Nov. 5, and they will be invited back to campus Feb. 24-26 to speak to student groups and university classes. The Student Alumni Board also will honor the recipients at a dinner and award ceremony that week.
The 2013 recipients of the Distinguished Young Alumni Awards were 2008 graduate Nick Piper, Xiamen, China, and 2007 graduate Justine Sterling, Dallas, Texas. Piper is the founder and CEO of Phoria Energy Solutions, a company that promotes clean and efficient energy use in developing economies. Sterling is the director of alumni relations for the George W. Bush Presidential Center.
Nominate a graduate or learn more about the Distinguished Young Alumni program or call the K-State Alumni Association at 800-600-ALUM (2586).
Established in 1874, the K-State Alumni Association is dedicated to providing lifelong connections, programs and services for its more than 40,000 members. Alumni programs include reunions, student recruitment and scholarships, pregame events, career services, legislative advocacy, awards programs, travel opportunities and programs for K-Staters worldwide. For more information, visit the K-State Alumni Association website or call 800-600-ALUM (2586) or 785-532-6260.