TLC Bi-Weekly Newsletter for Tuesday, September 29, 2020
Good morning, K-State!
We are six weeks into the new semester and the Teaching & Learning Center (TLC) would like to remind you of our commitment to supporting your efforts in teaching, mentoring, and advising. We at the TLC are excited to announce the various priorities, events, and resources that are designed to advance teaching and learning at K-State!
Click HERE to see what the TLC can do for you!
TLC Highlighted Teacher September 2020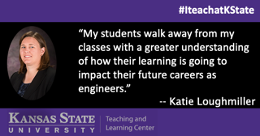 Our TLC Highlighted Teacher this week is Katie Loughmiller. Katie is an associate professor in the G.E Johnson Department of Architectural Engineering and Construction Science. Her teaching focus is upper-level construction management courses including the senior capstone course. Throughout all of her teaching, the primary focus is on creating project-based learning opportunities for her students.
In addition to her teaching, Katie is actively involved with her students through advising the K-State Chapter of the Sigma Lambda Chi (Construction Science) National Honorary. She is also active at a national level through her leadership as the Region 4 Director of the Associated Schools of Construction.
Click here to view a video of Katie and her teaching.
Remote Teaching "Fails" Video Series
Sometimes, despite our best efforts, teaching remotely/online does not go as planned. This is normal, and sometimes hilarious, so we have created a "Remote Teaching Fails" video series to normalize that we are not perfect in these modalities - and this is okay! Click here to see our latest release featuring Tim Shaffer. See our Remote Teaching Fails page for a full archive of our Remote Teaching Fails series.
Programs & Events
To show our commitment to K-State teaching, we partner with programs like the New Faculty Institute and offer our professional development series, both of which have upcoming events (see our Events page). We hope to see you there!
The theme for our professional development series this year is "Caring, Connections, and Community," and events occur every Wednesday at 12 noon via Zoom. Thus far, we have already offered six events this semester! Over 467 people have attended synchronously, and over 283 people have participated asynchronously. See our Professional Development Series page for more information (e.g., types of events, the post-event survey link, the TLC Professional Development Certificate, how to become a TLC Fellow). For recordings of past events, see our Archived Events and Canvas pages.
Upcoming TLC Events in the Next Two Weeks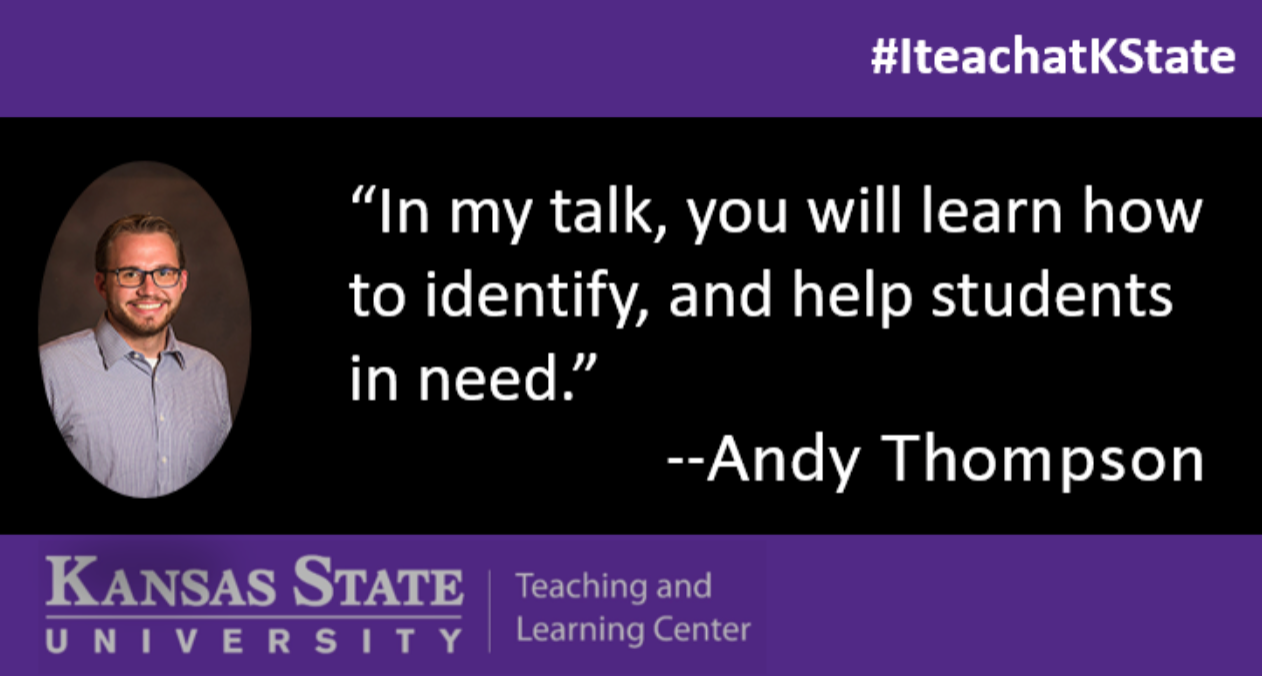 On Wednesday, September 30th at noon, Andy Thompson will present a "Need to Know" event titled "How We Follow Through on the Promise of Support". Click here for the promotional video.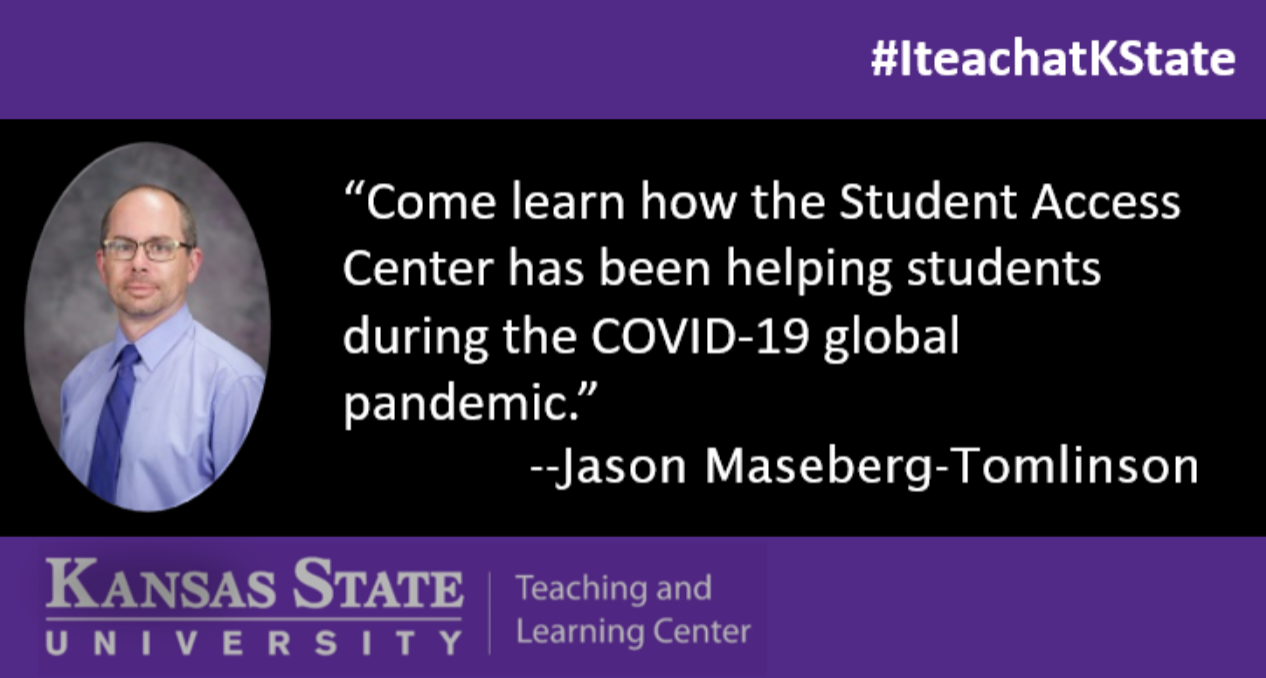 On Wednesday, October 7th at noon, Jason Maseberg Tomlinson will also present a "Need to Know" event titled "Accommodating Students and Providing Access for All During COVID-19". Click here for the promotional video.
Follow Us on Social Media!
Like us on Facebook, follow us on Instagram and Twitter, and subscribe to our YouTube channel! Please use the hashtag #ITeachAtKState when you post about your teaching, mentoring, and advising activities!
Please email us (teachingandlearning@k-state.edu) if you would like to submit a Remote Teaching Fails video or would like access to our TLC Professional Development Series Canvas page!
We look forward to this exciting year as we advance K-State's teaching and learning mission, as always, with energy and optimism! We are proud to say that, "I teach at K-State!"
#ITeachAtKState
Sincerely,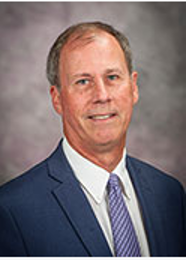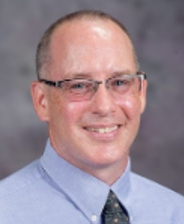 Brian Niehoff Don Saucier
Director, Teaching & Learning Center Associate Director, Teaching & Learning Center