TLC Bi-Weekly Newsletter for Wednesday September 11, 2019
Good morning, K-State!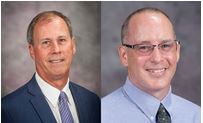 Here is an update about what is going on in the Teaching & Learning Center (TLC):
TLC Professional Development Series Launched!
We are excited to have launched our Professional Development Series (click HERE for more information) with a presentation by Don Saucier on The Teaching Persona. We continue our series with a "Need to Know" event today (click HERE to view a promotional video).
We will offer events throughout the academic year that delve into many domains of teaching and learning. These events will provide valuable experiences for those who attend in person; Zoom participation also is available by request, and the events will be cataloged on a Canvas page for those who cannot attend in person or by Zoom in real time.
You will have the opportunity to earn a TLC Professional Development Certificate or be selected as a TLC Fellow as a result of your participation in this series.
TLC Canvas Page Created
Please email us (teachingandlearning@ksu.edu) if you would like an invitation to our TLC Professional Development Series Canvas Page. This will provide access to the videos of our professional development events, information about our Professional Development Series, and provide a forum for discussing topics related to teaching and learning. Our discussion question of the week is:
What is one thing you do to engage your students?
Let us know if you have other questions you would like us to post.
TLC Highlighted Teacher
In each newsletter we will feature a K-Stater who is doing something special related to teaching and learning. This time, our TLC Highlighted Teacher is Mariya Vaughan.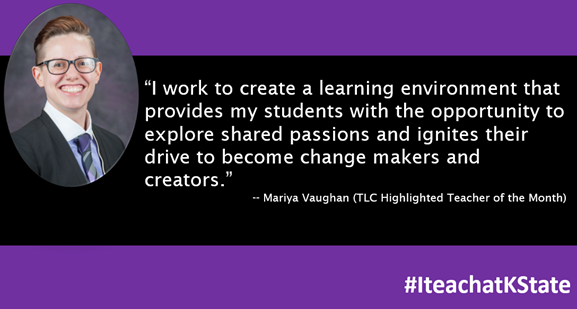 My name is Mariya Vaughan, and I am the assistant director of K-State First. K-State has been my home since 2004, when I began my bachelor's degree in graphic design, and then went on to earn my master's degree in English and women's studies. While working as a GTA, I unexpectedly found a love and passion for teaching that has shaped my career ever since. I began working for K-State First in 2014, where I manage the program's daily operations, coordinate GPS mentoring, lead communications, marketing, and recruitment efforts, and work closely with students as a teacher, mentor, and advisor. I teach the Fiction into Film First-Year Seminar and the Muggle Studies: How Harry Potter Shaped the World CAT Community and leverage my own and my students' love of all things nerdy to foster an engaging and collaborative learning environment. (Click HERE to learn more about Mariya)
Call for TLC Twitter Teachers of September
Each month we will collect nominations for TLC Twitter Teachers of the Month. If you would like us to recognize someone for their contributions to teaching and learning at K-State this month, you can nominate them. Please (Click HERE to nominate for TLC Twitter Teachers of the Month).
We look forward to continuing this exciting year! #IteachatkState
Sincerely,
Brian Niehoff
Interim Director
Don Saucier
Faculty Associate Director
Like us on Facebook and follow us on Instagram and Twitter! We will be using this hashtag to identify our posts – please use it as well when you post about your teaching, mentoring, and advising activities:
#IteachatKState
Articles of Interest:
Click HERE to access an article that Don Saucier recently published in Faculty Focus Daily on the topic if "Bringing PEACE to the Classroom."
Please let us know if you have a teaching-related article that you would like to share with the K-State teaching and learning community.
Upcoming Events Hosted by the TLC:
Need-to-Know Series
"Baking Accessibility into Your Course" (Presented by Laura Widenor, Deborah Goins, Trina McCarty, and Kaitlyn Cherry; click HERE to view a promotional video)

Please join Deborah Goins, Trina McCarty, Laura Widenor and alumnus Kaitlyn Cherry for "Baking Accessibility into your Course". We are going to hear Kaitlyn's story about her journey as a student and provide resources and quick tips on how you can build accessibility into your course materials right from the beginning, whether you are teaching face-to-face or online.
Wednesday, September 11th from 1:30-2:30pm.

Room 109 Justin Hall
Check us out on Twitter, Facebook, and Instagram for more information.
Professional Development Series
"What is CliftonStrengths for Students?" (Mike Finnegan; click HERE to view a promotional video)

CliftonStrengths for students is a 30-minute, web-based assessment that measures the presence of talent in thinking, feeling, and behaving of 34 areas called "themes." A strength is the ability to consistently provide near-perfect performance in a specific activity. K-State utilizes strengths as a tool to increase the overall engagement and well-being of students. Join Dr. Mike Finnegan (Assistant Professor, Leadership Studies) as this session will provide you with a working knowledge of the strengths philosophy and how you can integrate strengths based learning into your classroom.
Monday, September 16th from 3:30-4:30pm in room 4061 within the College of Business Administration.
Register HERE
Professional Development Series
"Help Them Experience It" (Doug Walker click HERE to view a promotional video)

The incremental value derived by students from doing something, rather than just discussing something, is significant. But to really experience it, they have to care about the outcome. This requires planning and imagination, and possibly resources, but it is possible to help students "feel it". Successful implementation of this approach will benefit not only your students, but yourself and other stakeholders.
Friday, September 20th from 10:00-11:00am in room 4061 within the College of Business Administration
Register HERE
Professional Development Series
"The K-State Family: How We Follow Through on the Promise of Support" (Andy Thompson; Promotional video coming soon!)

Kansas State University is known as a "family" to all who attend, visit, or interact with a K-Stater. Come join Andy Thompson (Office of Student Life; Assistant Dean, Assistant Director) and find out how the Office of Student Life supports our "family" through the ups and downs of the university experience.
Wednesday, October 2nd from 11:00am-12:00pm in room 4061 within the College of Business Administration
Register HERE
Other Upcoming Events Related to Teaching and Learning:
"Have a Byte"

Presented by Global Campus
Friday, September 20, 2019
K-State Indigenous Peoples Day
Upcoming Award Deadlines:
Let us know if you would like the TLC to help promote teaching-related awards!
Email : teachingandlearning@k-state.edu