TLC Bi-Weekly Newsletter for Wednesday October 9, 2019
Good morning, K-State!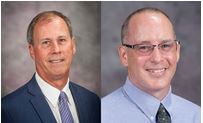 Here is an update about what is going on in the Teaching & Learning Center (TLC):
TLC Professional Development Series Is Going Strong – Join Us!
You will have the opportunity to earn a TLC Professional Development Certificate or be selected as a TLC Fellow as a result of your participation in this series.
We have offered five events to date, and over 250 people have attended the events in person! We have explored many domains of teaching and learning and will explore many more. Zoom participation is available by request if you can't attend in person, and the events will be cataloged on our TLC Canvas page.
Please email us (teachingandlearning@k-state.edu) if you would like an invitation to our TLC Professional Development Series Canvas Page. This will provide access to the videos of our professional development events, information about our Professional Development Series, and provide a forum for discussing topics related to teaching and learning.
Peer Review of Teaching Is Accepting Applications Until Tuesday October 15th
The Peer Review of Teaching Program (PRTP) helps faculty develop and document their teaching. PRTP supports faculty in the development of a community of scholars who work together to enhance their teaching experience, write about the intellectual work involved in their teaching, and share that writing with interested colleagues. Download the PRTP 2019-2020 Brochure to learn more!
Participation is limited to twelve faculty fellows a year, chosen from those who apply by the October 15, 2019 deadline.
To apply, download and complete the application form.
Applicants apply individually. Priority for fellowships is given to applicants who have not previously participated in the Peer Review of Teaching Program.
Send your completed application form to:
Jennifer Anthony
Peer Review of Teaching Program
TLC Canvas Discussion of the Week
Our discussion question of the week is:
What do you do to help your students through "all the things" in October?
Let us know if you have other questions you would like us to post.
TLC Highlighted Teacher
In each newsletter we will feature a K-Stater who is doing something special related to teaching and learning. This time, our TLC Highlighted Teacher is Kevin Sauer.
"Teaching is - people-centered, customer-focused, about a shared academic experience that is not only memorable, but that is also useful throughout life. I refer to this aspiration as my Lifetime Teaching Warranty. I care deeply about providing on-campus and on-line student customers with the necessary and current technical knowledge, but just as much about their professional growth, continual self-improvement, and especially, their motivation to teach and develop others. I really can't imagine not have the opportunity to teach, and regardless of the course, class size, or the subject matter - one of the best things we can do for K-State students is to make sure that they understand our passion for teaching." -- Kevin Sauer (Associate Professor, Department of Food, Nutrition, Dietetics, and Health)
Click HERE to view a video on Kevin and his teaching.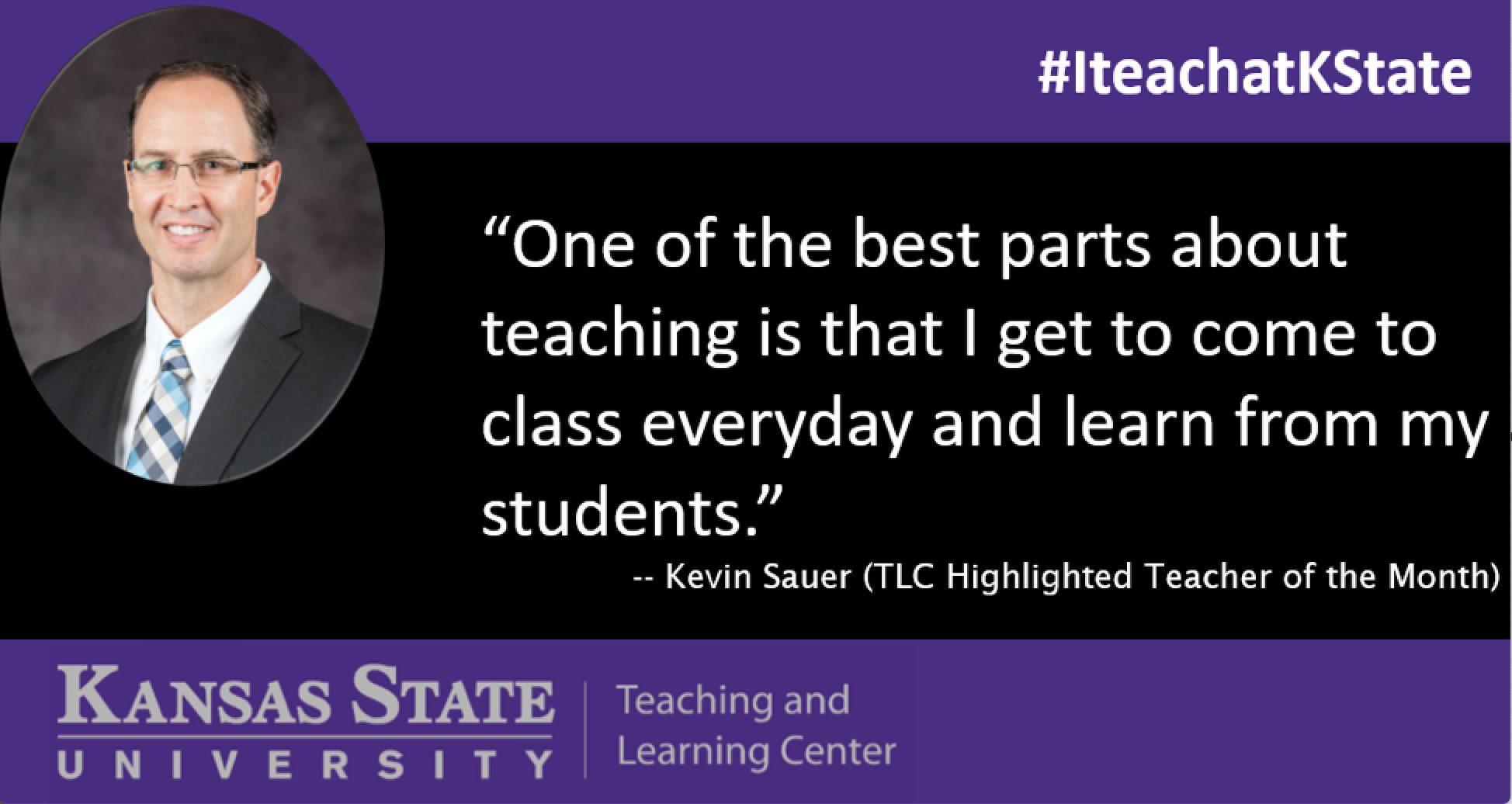 Congratulations to the TLC Twitter Teachers of September!
Dr. Alina M. De La Mota-Peynado (Teaching Assistant Professor, Division of Biology)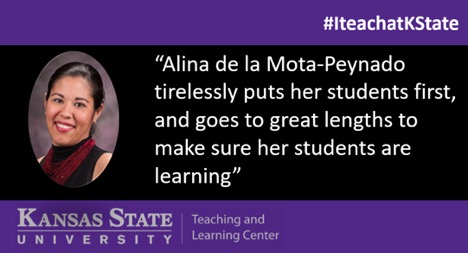 Dr. Sherry Haar (Professor, Department of Apparel, Textiles, and Interior Design):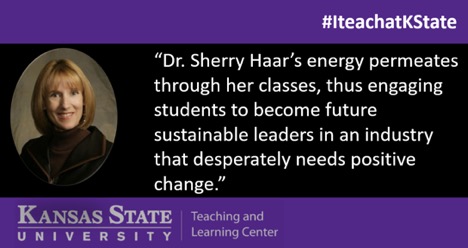 Call for TLC Twitter Teachers of October
Each month we will collect nominations for TLC Twitter Teachers of the Month. Please click here to nominate someone you would like us to recognize for their contributions to teaching and learning at K-State this month.
We look forward to continuing this exciting year! #IteachatKState
Sincerely,
Brian Niehoff
Director Teaching & Learning Center
Don Saucier
Associate Director, Teaching & Learning Center
Like us on Facebook and follow us on Instagram and Twitter! We will be using this hashtag to identify our posts – please use it as well when you post about your teaching, mentoring, and advising activities:
#IteachatKState
Upcoming Events Hosted by the TLC:
Professional Development Series
"How to Teach Multidisciplinary Content Through Historical Narratives" (Justin Kastner; Promotional video coming soon!)

Educational thought leaders have long exhorted university instructors to teach multi- and inter-disciplinary content. What are some valid approaches to this honorable yet daunting enterprise? One involves the use of stories. Eschewing pedagogical methods that merely present multi-faceted concepts and principles, this seminar encourages the use of narratives (real-life ones drawn from history) to (a) heighten intellectual curiosity amongst learners, (b) efficiently integrate the concepts-to-be-learnt, and (c) deliver on memorable lectures. Come join Dr. Justin Kastner (Associate Professor, Diagnostic Medicine/Pathobiology) as he presents on specific, illustrative approaches used in the teaching of DMP 816 Trade and Agricultural Health and DMP 888 Globalization, Cooperation, and the Food Trade (courses typically involving veterinary, public health, and food-system students).
Thursday, October 10th from 3:00-4:00pm in room 4061 within the College of Business Administration
Professional Development Series
"Engaging Students with Experiential Teaching Tools for the Humanities" (Heather McCrea; Promotional video coming soon!)

Please join us as Dr. Heather McCrea (Associate Professor, History) demonstrates a few ways to integrate humanities-based simulations (games) into the undergraduate classroom. We will discuss methods to help students develop historical characters and how to place those actors within a pivotal moment and reenact scenarios including trials and Congressional debates to deepen their understanding of the past and its ramifications on the present.
Wednesday, October 16th from 12:00-1:00pm in room 4061 within the College of Business Administration
Difficult Dialogues – A Series for K-State Faculty
"Mental Health in the Classroom: An Important Dialogue" (Dr. Wendy Barnes)

Talking about mental health with students can often be challenging due to social stigma, as well as personal shame. However, it is important to discuss mental health and the impact it has on student success. During this interactive workshop, we will be exploring ways to create a safe classroom environment when checking in with students about the status of their mental health, as well as how we might go about fostering dialogue when students are impacted by a campus suicide.
Thursday, October 17th, from 12:30pm-1:30pm, Cottonwood Room, KSU Student Union
Need-to-Know Series
"Remembering our Histories and Building Relationships Across Human Difference" (Debra Bolton & LaVerne Bitsie Baldwin; Promotional video coming soon!)

The Teaching & Learning Center is proud to present another installment of our new "Need to Know" series! Please join Debra Bolton (Director of Intercultural Learning and Academic Success) & LaVerne Bitsie-Baldwin (Director of Multicultural Engineering Program) on Wednesday, October 23rd at 2:00pm in Justin 109 as they present on diversity and inclusion within the classroom.
Wednesday, October 23rd from 2:00-3:00pm in Justin 109.
Difficult Dialogues – A Series for K-State Faculty
"Situation Critical: Responding to Difficult Situations Through Role-Play" (Tara Coleman and Brent Weaver)

Few people are skilled at effectively responding to a difficult situation, the first time they encounter it. It is easy to imagine you will respond calmly, but when tension is high, our response may be very different. Training and role-play can help us recognize warning signs of a challenging situation and allow us to process them more quickly, react more effectively, and respond with care. In this session, participants will role-play scenarios drawn from the group's personal experiences to help them start to develop a routine for handling difficult situations.
Save the Date!

Tuesday, November 12th from 12:30pm-1:30pm, Bluemont Room, KSU Student Union
Registration link coming soon!
Other Upcoming Events Related to Teaching and Learning:
Academic Achievement Center Open House

The Academic Achievement Center at K-State is hosting 'Fall Open House' on Thursday, October 10th, 3-5 pm. Please come and join their old new team members in Holton Hall 101 for refreshment, conversations, and more!
The Academic Achievement Center empowers students through useful resources, motivates through positive encouragement, and inspires hard work and dedication.
K-State Indigenous Peoples Day

Presented by the Indigenous Faculty and Staff Alliance
Monday, October 14th
Upcoming Award Deadlines:
Nominations for TLC Twitter Teachers of the Month for October are due by 11:59PM on October 31st!