TLC Bi-Weekly Newsletter for Tuesday, November 10, 2020
Good morning, K-State!
We are thirteen weeks into the Fall semester and the Teaching & Learning Center (TLC) would like to remind you of our commitment to supporting your efforts in teaching, mentoring, and advising. We at the TLC are excited to promote our many priorities, events, and resources that are designed to advance teaching and learning at K-State!
Click HERE to see what the TLC can do for you!
We have Professional Development Events in January to help you get ready to teach this Spring!
We understand the Spring semester will present unique challenges, and we are preparing for those challenges by offering some helpful events in our professional development series next semester!
Our first event will be on Wednesday, January 20th featuring Don Saucier presenting "Encouraging Empathy in Your Course Design and Policies." The following week, on Wednesday, January 27th, LaBarbara Wigfall will present "Maintaining Your and Your Students' Mind, Body, & Spirit." Mark your calendars!
TLC Highlighted Teacher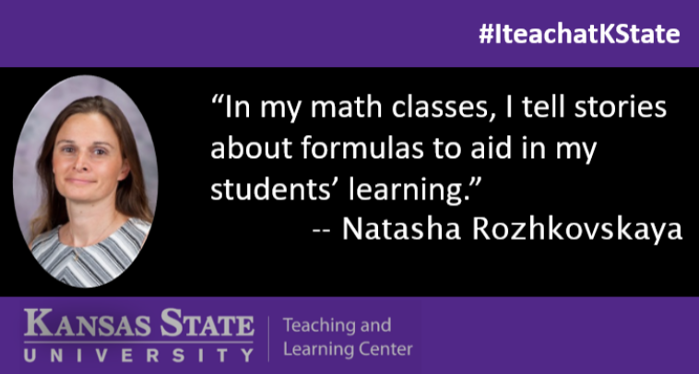 Our TLC Highlighted Teacher this week Natasha Rozhkovskaya. Professor Natasha Rozhkovskaya specializes in algebra and representation theory. She received her Ph.D from University of Pennsylvania. She is co-author of a monograph Bombay Lectures on Highest Weight Representations of Infinite Dimensional Lie Algebras (2013). Her book Math Circle for Elementary School Students (2014) was featured as the American Mathematical Society bestseller. Her interdisciplinary research focuses on connections between modern art and mathematical sciences. The results of a recent collaboration of Dr. Rozhkovskaya with Marianna Kistler Beach Museum of Art are summarized in the monograph M is for Math, Museum, and Manhattan, Kansas, (2017).
During her decade of service at K-State Dr. Rozhkovskaya taught a broad spectrum of mathematical courses and activities, from the programs for the elementary school students up to advanced courses for math Ph.D students. She believes that love for knowledge should be supported from early childhood, and for this reason she is actively involved in math programs for school students. She founded and has directed the Math Circle Seminar, a highly demanded program for school students with strong interest in mathematics, for the past 10 years. She organized a number of math competitions, serving as a State Director for Math Kangaroo Mathematics Competition, and as a Kansas manager of National Computational Linguistics Olympiad.
Click here to view a video of Dr. Rozhkovskaya discussing her teaching.
TLC October Twitter Teacher
Mary Kay Siefers was recognized as part of our TLC Twitter Teachers program. Congratulations and thank you for all that you do!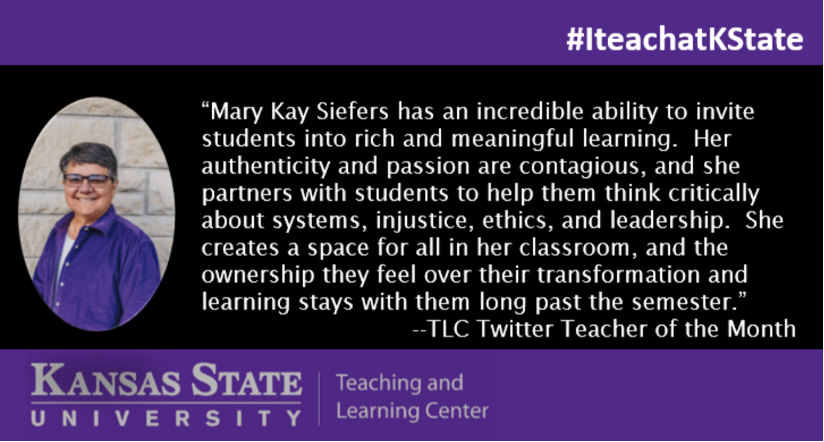 TEVALs
Keep in mind, teaching evaluations will be conducted entirely online this semester. Be sure to give your students plenty of time to evaluate your courses. You can create your TEVALs until December 13th, they will be offered until December 15th, and reports will be made available on December 16th. For more information, click here for a video tutorial on how to set up and complete your TEVALs. You should also have your students watch the SGA-created video on how and why to complete TEVALs.
TLC Video Series
In the Spring of 2020, we invited teachers to share what was working well in their remote classes in our Teachers Thriving Remotely video series. Click here to see a playlist of our Teachers Thriving Remotely series. However, despite our best efforts, teaching remotely/online does not go as planned, which is normal, and sometimes hilarious, so this Fall we have created a Remote Teaching Fails video series to normalize these experiences. Click here to see a playlist of our Remote Teaching Fails series. For full archives of these video series, see our Teachers Thriving Remotely page and/or our Remote Teaching Fails page.
Programs & Events
To show our commitment to K-State teaching, we partner with programs like the New Faculty Institute and offer our professional development series, both of which have upcoming events (see our Events page). We hope to see you there!
The theme for our professional development series this year is "Caring, Connections, and Community," and events occur every Wednesday at 12 noon via Zoom. Thus far, we have already offered ten events this semester! Over 614 people have attended synchronously, and over 322 people have participated asynchronously. See our Professional Development Series page for more information (e.g., types of events, the post-event survey link, the TLC Professional Development Certificate, how to become a TLC Fellow). For recordings of past events, see our Archived Events and Canvas pages.
Upcoming TLC Events in the Next Two Weeks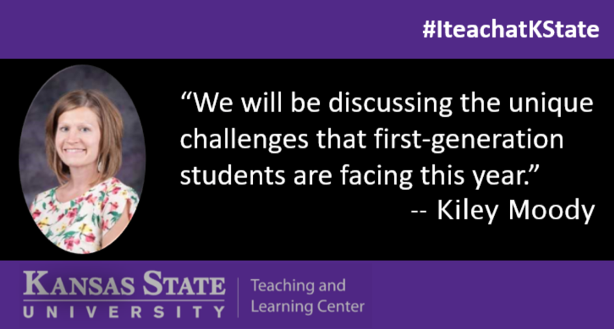 On Wednesday, November 11th at noon, Rebeca Paz, Kiley Moody, and Greg Eiselein will present an event entitled "Engaging and Supporting First-Generation Students: A Multi-Modal Approach". Click here for the promotional video for this event.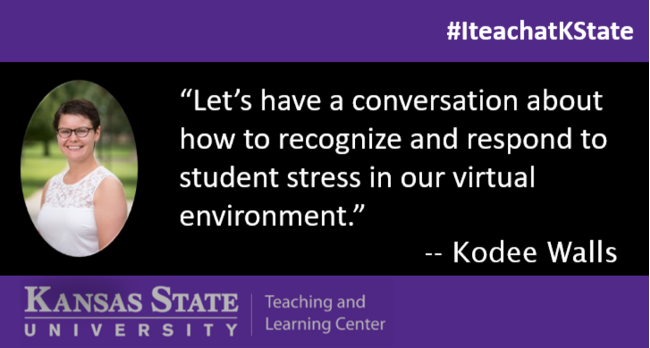 On Wednesday, November 18th at noon, Kodee Walls will present a Need to Know event entitled "Mental Health 101". Click here for the promotional video for this event.
Follow Us on Social Media!
Like us on Facebook, follow us on Instagram and Twitter, and subscribe to our YouTube channel! Please use the hashtag #ITeachAtKState when you post about your teaching, mentoring, and advising activities!
Please email us (teachingandlearning@k-state.edu) if you would like access to our TLC Professional Development Series Canvas page!
We look forward to this exciting year as we advance K-State's teaching and learning mission, as always, with energy and optimism! We are proud to say that, "I teach at K-State!"
#ITeachAtKState
Sincerely,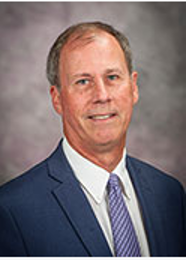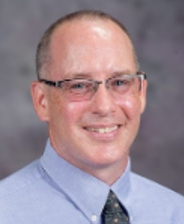 Brian Niehoff Don Saucier
Director, Teaching & Learning Center Associate Director, Teaching & Learning Center