TLC Bi-Weekly Newsletter for Tuesday, May 3rd, 2022
Good morning, K-State!
It is the last week of instruction and final exam preparation week for the Spring 2022 semester. The Teaching & Learning Center (TLC) would like to remind you of our commitment to support your efforts in teaching, mentoring, and advising. We are excited about the various priorities, events, and resources that are designed to advance teaching and learning at K-State. This video explains what the TLC can do for you.
TEVAL Reminder
Don't forget to create your TEVALs! You have until May 16th, but we recommend you create your TEVALS sooner. TEVALs will be offered until May 17th, and reports will be made available on May 18th. Please visit our TEVAL webpage for more information. The "Learning From Your Evaluations" video from our Engage the Sage series is an additional resource for how you can use these evaluations to optimize future classes.
TLC Highlighted Teacher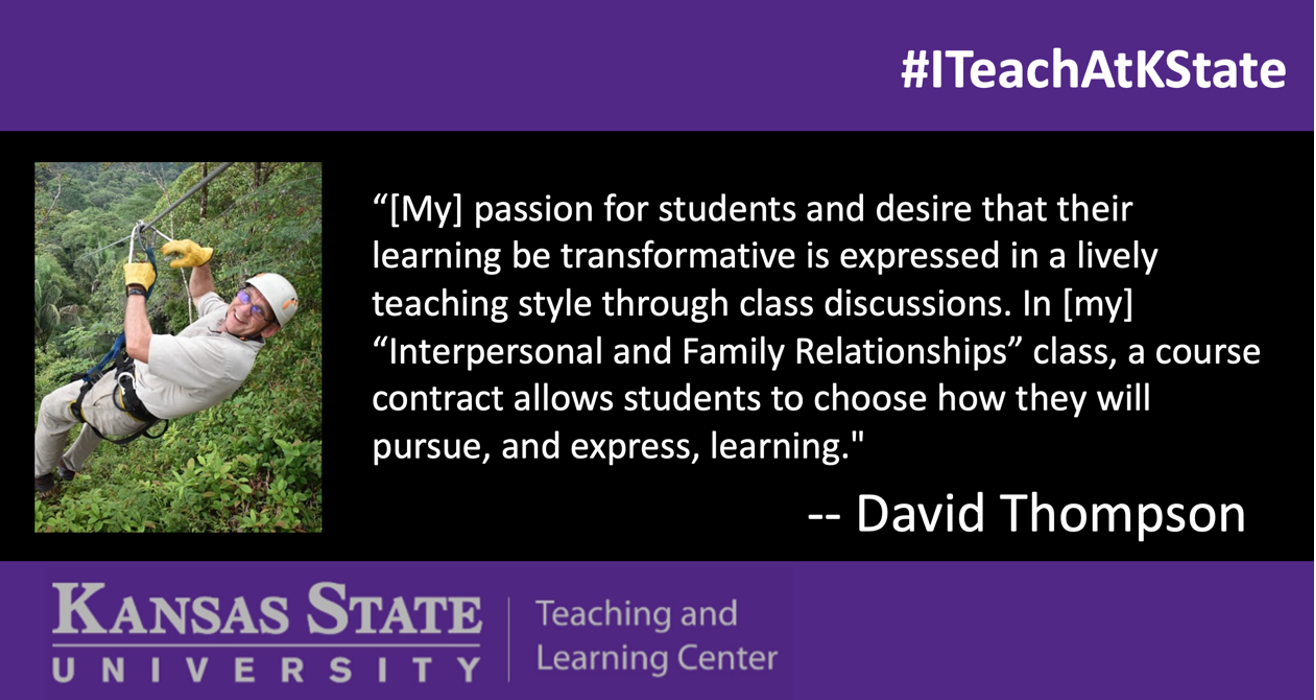 Our highlighted teacher this week is David Thompson, Teaching Associate Professor in Applied Human Sciences. His passion for students and desire that their learning be transformative is expressed in a lively teaching style through class discussions. He specializes in courses relating to successful interpersonal skills, communication, and conflict resolution. In his "Interpersonal and Family Relationships" class a course contract allows students to choose how they will pursue, and express, learning. A self-proclaimed "Peacemaker" and Approved Mediator, his "Interpersonal Conflict Resolution" courses and professional trainings equip students and professionals, online and on campus, to successfully deal with their own interpersonal conflicts.
Click here to see a video of David discussing his teaching.
Click here for an archive of past highlighted teachers.
Programs & Events
The theme for our Professional Development Series this year is "Mindful Returns." The events in our PD Series are free and no registration is required. Events occur on Wednesdays at 12 noon via Zoom: https://ksu.zoom.us/j/91689499348. We hope to see you there.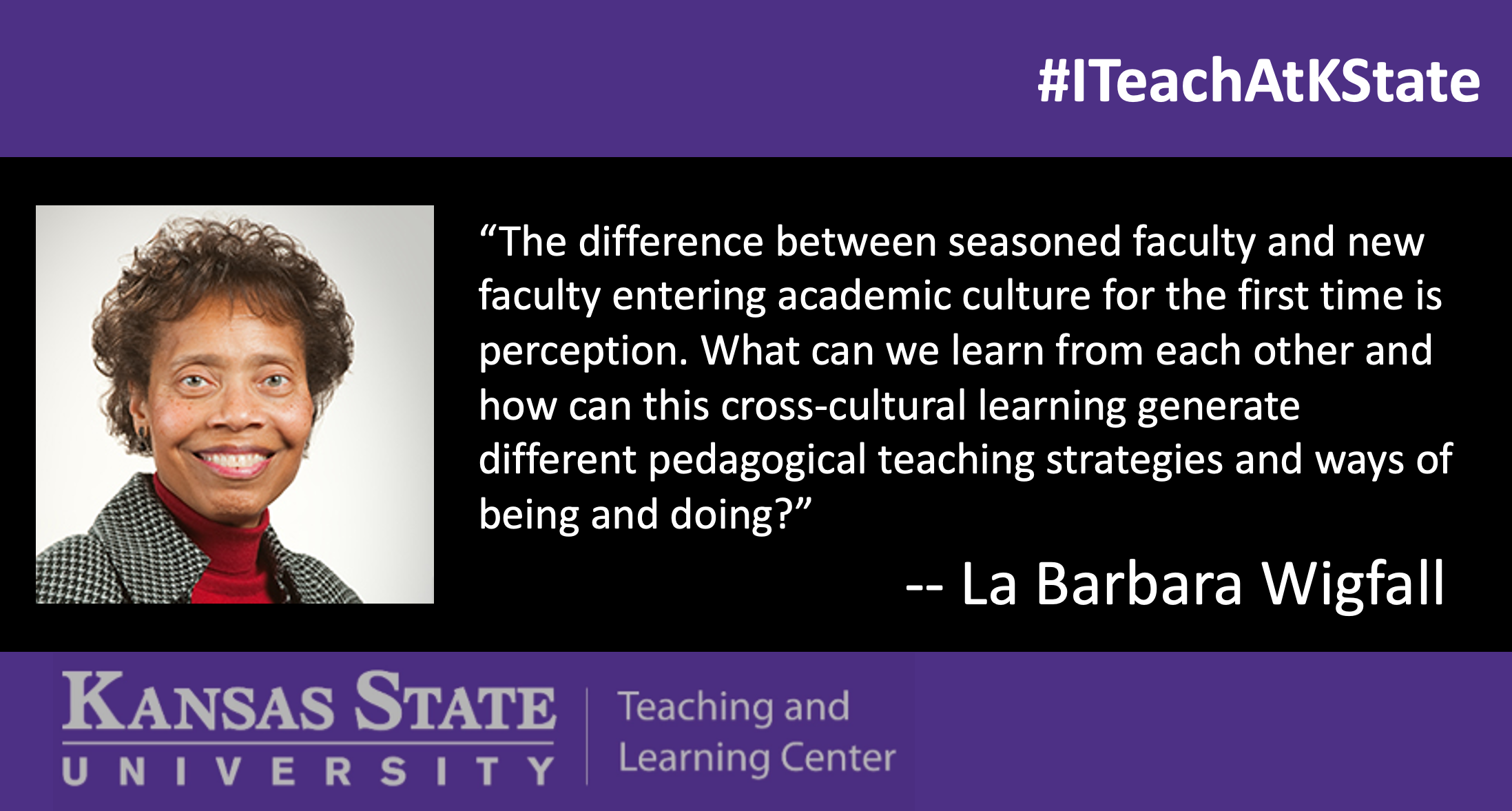 Our first Scholarship of Teaching and Learning (SoTL) Showcase is Monday, May 9th in Hale Library, Room 181 starting at 1:30pm. The goal of this showcase is for K-Staters to share ideas and/or research pertaining to teaching and learning. Mark your calendars!
Engage the Sage Videos to Support Excellent Teaching
As we begin the Spring 2022 semester, we would like to remind you of several video resources as part of Dr. Don Saucier's YouTube channel, Engage the Sage:
Our latest release, "Bring PEACE & Empathy to Your Research Lab," provides five recommendations for how to improve your collaborations with research partners by applying some of our teaching philosophy ideas toward mentoring.
The end of the semester is a chaotic time and often creates a lot of stress for both our students and ourselves. Our "Managing End of Semester Chaos" video provides simple ways you can manage this chaos to end the semester on a high note.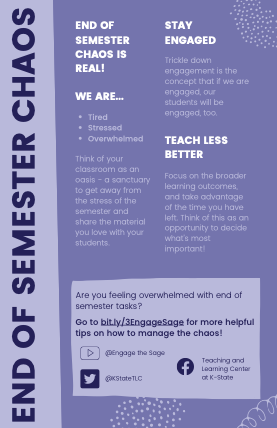 Social Media
To stay in touch with new resources and events, like us on Facebook, follow us on Twitter, and subscribe to our YouTube channel. To let us know how your semester is going, please use the hashtag #ITeachAtKState when you post about your teaching, mentoring, and advising activities.
Thank you for all you do for your colleagues and our students. And thank you for advancing K-State's teaching and learning mission with energy and optimism.
Sincerely,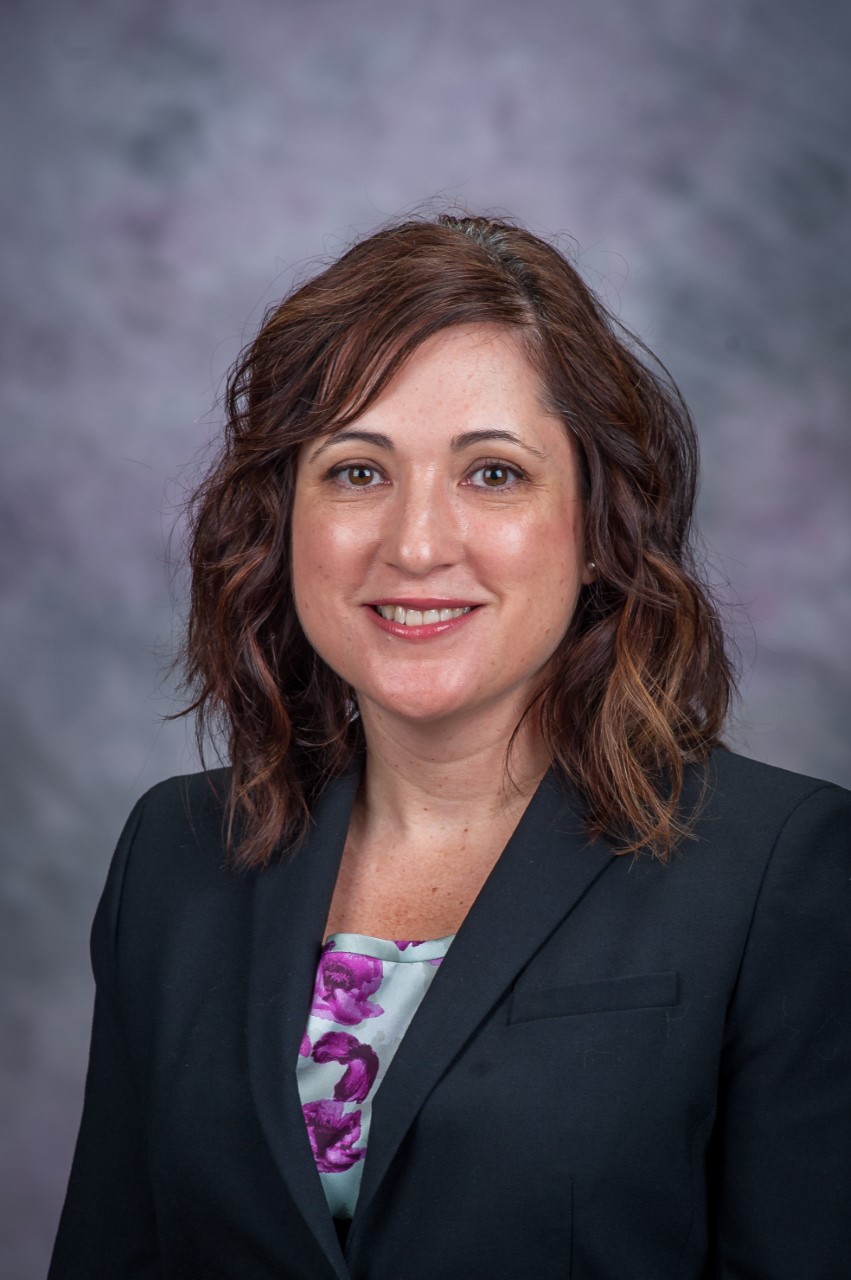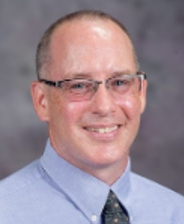 Tanya González Don Saucier
Interim Director of the TLC Associate Director of the TLC