TLC Bi-Weekly Newsletter for Tuesday, May 25th, 2021
Good morning, K-State!
Congratulations on finishing the Spring 2021 semester! The Teaching & Learning Center (TLC) would like to remind you of our commitment to support your efforts in teaching, mentoring, and advising. We at the TLC are excited to announce the various priorities, events, and resources that are designed to advance teaching and learning at K-State!
Click HERE to see what the TLC can do for you!
TLC Highlighted Teacher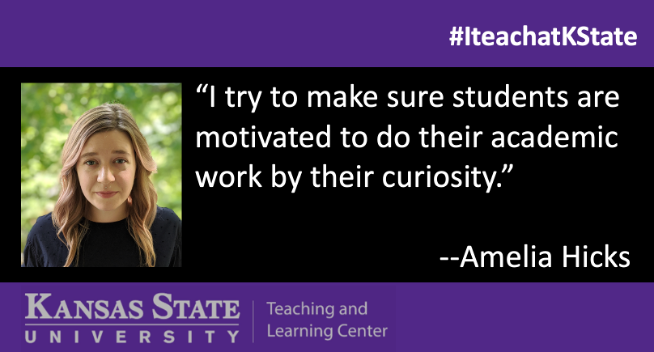 Our TLC Highlighted Teacher this week is Amelia Hicks. Her bio is as follows. Many people assume that ethics is a mere "matter of opinion." But in my courses, I emphasize that it is possible—and essential—to reason rigorously about moral problems. I aim for my students to understand a wide variety of moral perspectives, and to reflect on the moral assumptions that drive their everyday choices. I introduce abstract moral theories within the context of real-world moral problems, and I encourage students to connect moral reflection to their interests and backgrounds.
Click here to see a video of Amelia discussing her teaching.
Programs & Events
To show our support for K-State instructors, the theme for our professional development series this year was "Caring, Connections, and Community." In our 35 events this academic year, 504 people attended synchronously and over 594 people participated asynchronously! More specifically, in our 19 events in the Spring 2021 semester, 236 people attended synchronously, and 242 people participated asynchronously. See our Professional Development Series page for more information. Check out our Archived Events and Canvas pages for recordings of past events. We hope to see you again next semester!
End of the Year Survey
If you attended any or all of our professional development events, please complete our end of the year survey. Your feedback will help us continue to improve our professional development series for K-State instructors! Be on the lookout for reminders via email and social media. If you have already completed the survey, thank you - we greatly appreciate your participation!
Course Design Institute
Global Campus is offering their Online Course Design Institute for free this summer from June 1st to July 2nd. It will include five modules: 1) Teaching Persona, Philosophy and Practice, 2) Fundamentals of Online and Blended Teaching and Learning, 3) Tools for Integrating Technology into Teaching and Learning, 4) Student Success in Online and Blended Teaching and Learning, and 5) Assessment in Online and Blended Teaching and Learning. Click here for more information, including registration details.
Teachers Telling Stories Video Series
The following instructors participated in our "Teachers Telling Stories" series in which we asked them to share a story they use in their teaching or a story that has a message related to teaching. See below for the stories in this series.
Linda Yarrow's Duct Tape Story
Chardie Baird's Cultural Script Story
Don Saucier's Hit and Run Story
Spotlight Preview
SPOTLIGHT will be Monday, October 25th, and we will start releasing promotional videos for the speakers soon. Stay tuned!
Engage the Sage
On Don Saucier's YouTube channel, Engage the Sage, he releases videos targeted toward instructors. The following videos are particularly relevant as we approach the new semester:
A Few of My Favorite Things (from Teaching this Semester)
Managing End of the Semester Chaos
Learning From Your Evaluations
Evaluating Teaching Evaluations
Three-Minute Thursday Tips
Global Campus is releasing quick tips via K-State Today on Thursdays. Thus far, they have released tips on course navigation, creating a course welcome, and using groups in Canvas. Be on the lookout for these informative tips every week! For a full archive of these tips, click here for a YouTube playlist.
Follow Us on Social Media!
Like us on Facebook, follow us on Instagram and Twitter, and subscribe to our YouTube channel! Please use the hashtag #ITeachAtKState when you post about your teaching, mentoring, and advising activities!
Please email us (teachingandlearning@k-state.edu) if you would like access to our TLC Professional Development Series Canvas page!
We love advancing K-State's teaching and learning mission, as always, with energy and optimism! We are proud to say, "I teach at K-State!"
#ITeachAtKState
Sincerely,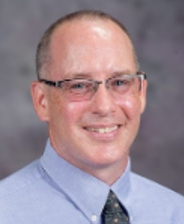 Don Saucier
Associate Director, Teaching & Learning Center