TLC Bi-Weekly Newsletter for Thursday March 5, 2020
Good morning, K-State!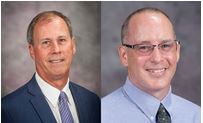 We are about a quarter of the way through the semester! Here is an update about what is going on in the Teaching & Learning Center (TLC):
SPOTLIGHT K-State Was a Success!
Our annual SPOTLIGHT K-State event was held earlier this week and was a tremendous success! This event featured K-State presenters from all around campus who shared their experiences with failure. Recordings from this year's SPOTLIGHT presentations will soon be available on the TLC's website (https://www.k-state.edu/tlc/past-events/spotlight/index.html).
If you are going for the TLC Professional Development Certificate and would like to earn your TWO CREDITS for attending SPOTLIGHT K-State, please complete our post-event survey.
Click HERE to complete the Post-Event Survey (be sure to select "SPOTLIGHT K-State" where appropriate.)

Check out our TLC Professional Development Series!
Do you want to earn a TLC Professional Development Certificate or be selected as a TLC Fellow? You can, by participating in our series!
We have offered 16 events to date, and over 415 people have attended the events in person! We have explored many domains of teaching and learning and will explore many more. Zoom participation is available by request if you can't attend in person.
It is not too late to participate! All of the events will be cataloged on our TLC Canvas page, and you can catch up at your convenience.
Please email us (teachingandlearning@k-state.edu) if you would like an invitation to our TLC Professional Development Series Canvas Page. This will provide access to the videos of our professional development events, information about our Professional Development Series, and provide a forum for discussing topics related to teaching and learning.
Come Celebrate Open Education Week with the TLC!
Today, (March 5th) we will be celebrating Open Education Week with events to promote the Open Educational Resources (OER) initiatives on campus. Brian Lindshield (Associate Professor, Food, Nutrition, Dietetics, & Health), Robbie Bear (Senior Instructor, Biology), Scott Finkeldei (Director for Academic and Student Technology), and Colby Moorberg (Assistant Professor, Agronomy) will lead these important sessions about how we can provide pedagogically sound resources to our students while easing the financial burden of their education. Each of the following events will be available via Zoom.
Open/Alternative Textbook Initiative Information Session
9:00-9:50AM in CBA 2047
Zoom Invitation: https://ksu.zoom.us/j/327067755
Adapting and Open Textbook (OER) for a Large Undergraduate Course
Robbie Bear, 10:00-10:30AM in CBA 4061
Zoom Invitation: https://ksu.zoom.us/j/551975808
Pressbooks, Rebus, and Hypothes.is Demo
Colby Moorberg, 10:30-11:15AM in CBA 4061
Zoom Invitation: https://ksu.zoom.us/j/551975808
Using Canvas as a Classroom Response System
Brian Lindshield and Scott Finkeldei, 11:15-11:45AM in CBA 4061
Zoom Invitation: https://ksu.zoom.us/j/551975808
The Office of Assessment Is Partnering with the TLC to Offer an Assessment Series
We will be offering, with Fred Burrack and Dorothy Thompson from the Office of Assessment, a series of workshops in a partnership with the Teaching & Learning Center to discuss the all-important topic of assessment. Teaching, learning, and assessment are three core components of the K-State educational mission, and together we will be offering workshops on:
Assessing Undergraduate Learning Outcomes (Critical Thinking, Communication, Diversity)
Friday, March 6th from 2:30-3:30PM in CBA 4061
Power BI Training
Thursday, April 9th from 1:00-4:00PM in CBA 4061
We look forward to you joining us in this exciting series!
TLC Canvas Discussion of the Week
Our discussion question of the week is:
What was your favorite moment from SPOTLIGHT?
Let us know if you have other questions you would like us to post.
TLC Highlighted Teacher MARCH 2020
In each newsletter we will feature a K-Stater who is doing something special related to teaching and learning. This time, our TLC Highlighted Teacher is Brian McCornack from the Entomology Department.
My name is Brian McCornack and I am a Professor and Interim Head for Entomology at K-State. Teaching—more importantly, helping students, colleagues, and farmers connect with content in new ways—has been a life-long passion of mine. From a young age, I had the best mentor—my father. The mantra of "see what you're looking at" has become a foundation for how I use inquiry in the classroom and my research. "What do you notice? And what do you wonder?" Simple questions that have led me to a professional mission centered on helping students make connections—the "lightbulb moments" that spark creativity and deeper investigations in the classroom. With practice, and sometimes outright failure, inquiry becomes the basis for many learners, especially as they venture out into the world, pursuing a path of perpetual learning.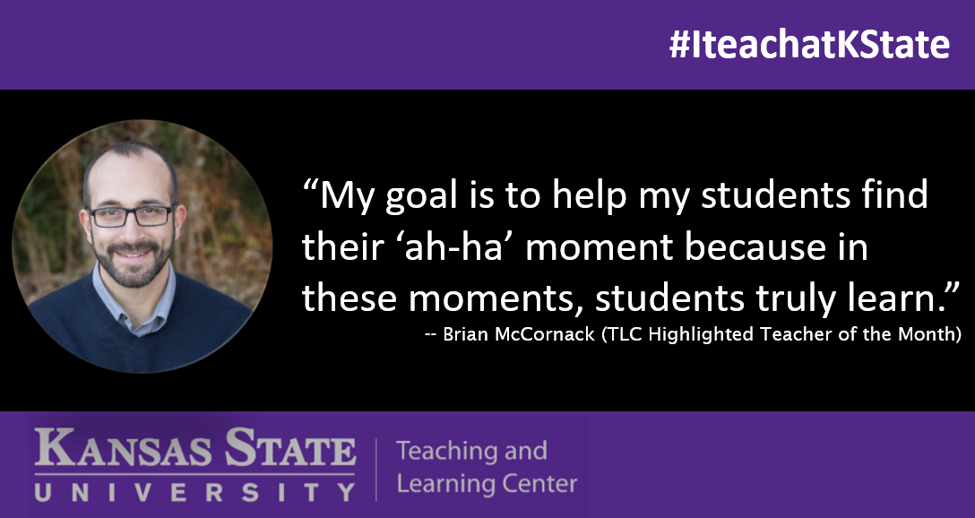 TLC Twitter Teachers for February
Mandi McKinley (K-State First)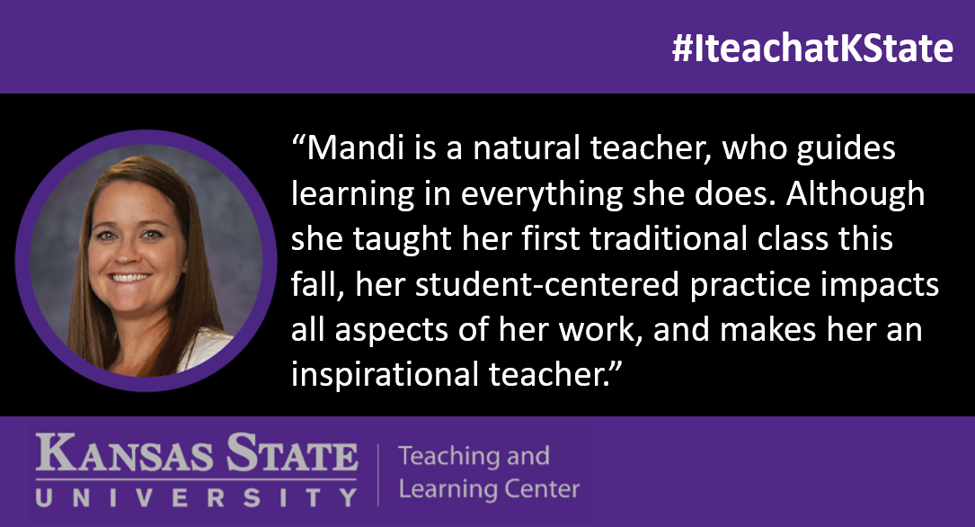 Call for TLC Twitter Teachers of February
Each month we will collect nominations for TLC Twitter Teachers of the Month. Please click here to nominate someone you would like us to recognize for their contributions to teaching and learning at K-State this month.
We look forward to continuing this exciting year! #IteachatKState
Sincerely,
Brian Niehoff
Director, Teaching & Learning Center
Don Saucier
Associate Director, Teaching & Learning Center
Like us on Facebook and follow us on Instagram and Twitter! We will be using this hashtag to identify our posts – please use it as well when you post about your teaching, mentoring, and advising activities:
Upcoming Events Hosted by the TLC:
Need to Know Series
Assessing Undergraduate Learning Outcomes (Critical Thinking, Communication, Diversity)

Friday, March 6th from 2:30-3:30PM in CBA 4061
Professional Development Series
"Enhancing Critical Thinking in the Classroom" by Pat Ackerman ( Communications, Humanities, & Social Sciences)

Wednesday, March 25th from 3:00-4:00PM in CBA 4061
Professional Development Series
"Teaching Practices in STEM Courses & Labs: A Panel Discussion with Experienced Faculty"

Monday, March 30th from 3:00-4:00PM in CBA 4061
Professional Development Series
"The Embodied Student" by Sally Bailey (School of Music, Theatre, and Dance)

Friday, April 3rd from 11:00-12:00PM in CBA 4061
TLC Assessment Series
Power BI Training

Thursday, April 9th from 1:00-4:00PM in CBA 4061
Need to Know Series
"Overcoming Barriers to Student Success" by Stephanie Bannister (Assistant Vice Provost of Student Success), RJ Youngblood (Academic Achievement Center), & Brian Lindshield (Food, Nutrition, Dietetics, and Health)
Need to Know Series
"Mind, Body, and Spirit" by LaBarbara James Wigfall (Associate Professor, Landscape Architecture and Regional & Community Planning)
Professional Development Series
"Teaching: One Size Does Not Fit All"

GTA Panel Discussion
Exact Date TBD
Upcoming Award Deadlines & Requests for Proposals:
In FY 2021 Global Campus will provide two funding cycles, one in the spring and one in the fall. The updated format will provide flexibility and accelerate project development. Priority is given to proposals that:

Revise existing and develop new, student-focused programs or courses
Reduce course gaps in online curricula or time to degree
Focus on learner-centered scheduling (accelerated courses and multiple start dates during a year)
Promote interdisciplinary approaches
Expand learning opportunities in areas of university strength